Shimano Ultegra R8050 Di2 Compact Groupset
Shimano Ultegra R8050 Di2 Compact Groupset
Price:
RRP: $2,003.25
Save: $482.25
In Stock
Ready for despatch
$1,521.00
Everything you need to make your ride distinctively yours.
The new Ultegra R8050 series is taking our rider-tuned philosophy to the next level, with an extensive range of components for mechanical shifting, electronic shifting (Di2) and time trial / triathlon.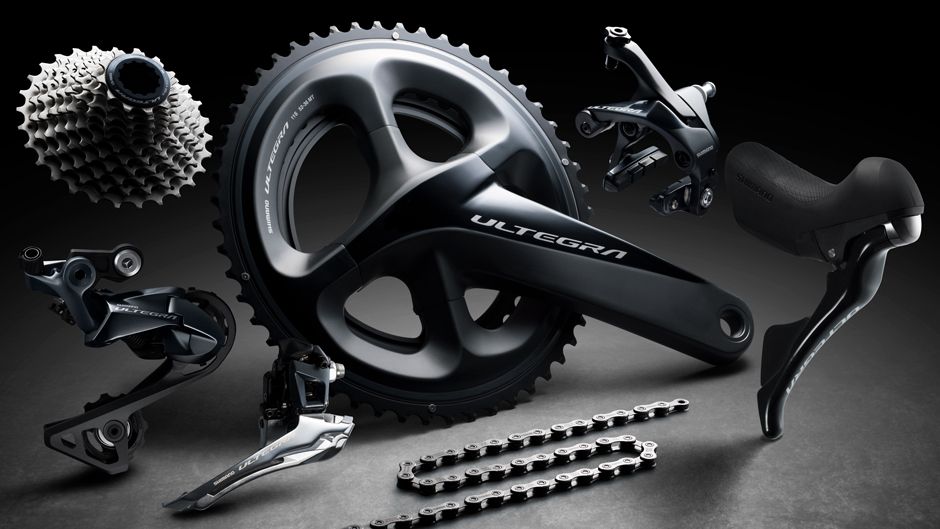 What's included:
R8050 Di2 STi Levers
105 5800 Brake Caliper (standard set)
R8000 Chainset Compact 50/34T
Arm length 172.5mm
R8050 Di2 Front Derailleur (braze-on)
R8050 Di2 Rear Derailleur (short cage)
R8000 11s Cassette (11-28)
R8000 11 speed chain
BB-R60 English thread bottom Bracket
Gear & Brake Cables
Technologies
FC-R8000 HOLLOWTECH II CRANKSET
The Hollowtech II crankset will help you transfer more power into speed. It offers weight reduction without sacrificing stiffness. It enables a wide range of gear combinations to suit your every need. Paired with the new front and rear derailleurs, your shifts will be so fast and reliable you'll almost question whether they happened at all! The beautifully shaped crankarm, trickled down from Dura-Ace, is a tribute to the aesthetics of your bike.
ST-R8050 Di2 Dual control Levers
The new Ultegra ST-R8050 dual-control lever allows for more intuitive shifting. A clearer separation between the shift buttons ensures precise shifting, even when wearing thicker gloves. Each switch can be used for multi-shift ON or OFF and top hood buttons can be programmed to control third-party devices. All functions can be customized through the Shimano E-Tube app or PC software.
FD-R8050 Di2 Front derailleur
The new FD-R8050 is redesigned to fit a wider gear pitch without sacrificing shifting performance. Quick and smooth front shifting is guaranteed under all circumstances, even when you're shifting to the large chainring while riding out of the saddle. Due to SHIMANO SYNCHRONIZED SHIFT the front derailleur will sift automatically when the rear derailleur is shifted, allowing both derailleurs to work together efficiently. With SEMI-SYNCHRONIZED SHIFT it's the other way around, with the rear derailleur shifting automatically when the front derailleur is shifted, obtaining optimal front/rear gear positioning. At the same time, Di2's auto-trim feature will automatically centre the front derailleur precisely around the chain, avoiding chain rub as you move the chain across the cassette. This is how fast, precise and smooth your shifting can be.
RD-R8050 Rear derailleur
The RD-R8050 will help you maintain race concentration through intuitive shift control. The new low-profile design of Shimano Shadow RD increases its shift stability and gives the rear derailleur a sleek and integrated appearance. Race endurance is guaranteed, through the optimized slant angle.