Clearance Products
Accessories
Bags
Bikes
Bikes Junior
Frames/Forks
DriveTrain
Brakes
Finishing Kit
Pedals
Clothing
Shoes
Wheels
Tyres & Tubes
Training
Energy Food
Workshop
Triathlon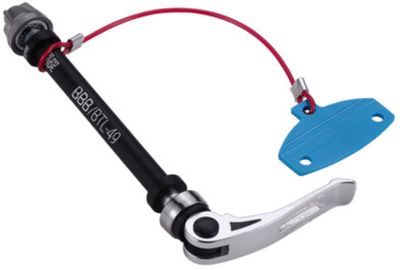 BBB ChainGrip
Travelling? One problem less thanks to BBB tools - Just mount this axle instead of your wheel and be sure your frame is secure - Moreover the set includes Brakepads spacer for perfect alignment when the wheel is back in the place -
• Quick release axle system
• Keeps the chain under tension when the wheel is removed
• Easy transportation and cleaning
• 135 mm
• with disc brake pad adapter
• Keeps the brake pads in place when the disc is removed -
More Information
Travelling? One problem less thanks to BBB tools. Just mount this axle instead of your wheel and be sure your frame is secure. Moreover the set includes Brakepads spacer for perfect alignment when the wheel is back in the place.
Quick release axle system
Keeps the chain under tension when the wheel is removed
Easy transportation and cleaning
135 mm
with disc brake pad adapter
Keeps the brake pads in place when the disc is removed.