Assos T.campionissimo_s7 Bib Shorts
Assos T.campionissimo_s7 Bib Shorts
Price:
RRP: $399.46
Save: 30%
Black - M
In Stock
Ready for despatch
$279.62
Every day is not a Campionissimo day. To get the most out of T.campionissimo, wear them when you are in your best form. Save them for the day when you need every advantage, when you can't afford to compromise. Or, if you're the type of rider who never, ever compromises on performance and pushes every ride to the limit, these are the shorts for you!
General features
aeroPatterningFenomeno1 - The very particular, minimal pattern design is the result of wind-tunnel testing conducted specifically for our aero chronosuit FENOMENO, engineered for the London Olympic Games 2012 and used by the Swiss Cycling Federation. Mod. Dep. & Patent Pending. Never was an anatomical cycling short constructed with so few seams.
Y7 frame carrier bibTech - It's no longer a traditional bib construction made of spandex like the shorts, it's a Y-shaped system construction front/back which ensures the unit stays in a perfectly wrinkle free and contoured position at all times.
superFlat grippers - Specifically developed elastic leg-grippers. Ultra-light in volume and with an ideally calibrated stretch return which secures the pants firmly to the legs, without applying unnecessary pressure.
bibStabilizer - The bibStabilizer also serve the purpose of an eyewear holder. Simply insert one pol between silicon stripe and bib.
Main textile
A:E:M:T. - asymmetrical elastic module tech; Specifically calibrated textile with asymmetrical elastic module. Combined with directional cutting, it supports muscle elongation and stabilizes movements.
muscleStabilizer - In addition to A:E:M:T., the custom fabrics features a higher % of spandex resulting in a stronger return stretch. This minimizes muscle fatigue due to improved vibration-control.
odourControl - Antibacterial fiber treatment, reduces fabric aging and helps preventing unpleasant odors.
iceColor - Fabric treatment which reflects sunlight, hence reduces heat absorption keeping muscle temperature at a cooler, more stable, optimal operational level.
abrasionProtec - Strongly improved abrasion resistance compared to _s5 shorts.
speedDry Tech - Textile weaving construction which ensures a faster moisture transfer process.
saddleGripSurface - The fabric structure creates a little grip on the saddle contact area, enabling a stable pedaling position.
ergoKompressor - Avantgarde generation of ASSOS textiles which provides intelligently balanced compression on muscles. Applies pressure but does it ergonomically, i.e. adapting to your body's anatomy. It grows on you.
Protection insert
memoryFoam - On generation _s2 FI.13, ASSOS firstly introduced "memory foam" technology for its shock absorbing foam pads. It means that the foam returns to its original form as soon as pressure is released. Therefore every time pedaling position is changed in the saddle through shift of weight, the foam "fills the gap".
ASSOS goldenGate - ASSOS patent - Major breakthrough, another ASSOS milestone invention: Before _s7, all cycling shorts inserts have been fastened (sewn or glued) to shorts all the way around. NOW, "goldenGate" interrupts the sewing in the area "between the legs", creating 3 dimensional freedom of movement right in the most sensitive area. No seams, hence reduced friction - basically non existing. Patent protected! Be aware of imitations.
ASSOS waffle - ASSOS patent - It's the ASSOS solution for the insert next-to-skin 3-layer fabric. First introduced on _s5 and now further perfected for _s7: Instead of using a monolithic linear foam as the middle layer, _s7 is equipped with a perforated foam. Reduction in weight and increase in breathability as a result. Be aware of imitations!
ASSOS superAir - ASSOS patent pending - It's the refinement of the waffle patent: In addition to the foammiddle layer, also the lower layer of the 3-layer fabric is perforated.
This further decreases weight and augments breathability. Another ASSOS milestone. Be aware of soon to follow imitations!
ASSOS rearTerminal - ASSOS patent pending - Another little-major technological step towards total comfort: The rear part of the insert is directly incorporated into the lower back seams. Less volume, less seams, a perfectly integrated unit. Be aware of soon to follow imitations!
kuKuPenthouse - ASSOS patent pending - Another ASSOS invention: The front part of the insert features around-shaped pattern insert made of skin contact textile, no foam. Not only does it create a "nest" into which the male's genitals are properly "stored", but also keeps them "cooler". It's the evolution of "kuKuDeluxe". You only got 3, protect them!
anatomical side flaps - This construction further reduces heat and risk of chaffing on saddle sidewalls thanks to optimized anatomic contouring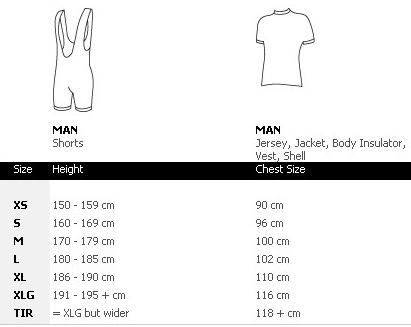 Customers who bought this item also bought