Black - XS
In Stock
2-3 Days Delivery Time
$165.98
WHAT IS IT?
The new jersey for summer 16, this product combines the comfort of Assos' type.002 material with added, lighter, type.220 material in strategic places to give you the ultimate in performance on the hottest days.
ALS CLIMARANGE
Summer
HOW TO USE IT
Engineered to work perfectly with a summer skinFoil, it can also be used next to your skin on the hottest days. And if the summer weather does not live up to expectations, add either armWarmers or a shell for those cooler times.
TECHNOLOGICAL ENGINEERING
A new standard in the ASSOS women's jersey range, this is a product for riders who demand the ultimate in performance. Light, breathable and cut specifically for women, we believe it strikes the perfect balance between performance, cut and aesthetics.
THE CONSTRUCTION
Assos chose to use the type.002 material for the majority of this jersey. Its elastic, yet soft properties mean you get a jersey that not only fits better but is also more comfortable to wear during summer rides
For enhanced breathability Assos has added the mono-stretch type.220 material to the back of the jersey. It is an extremely light fabric used to keep you cool on even the hottest summer rides, as well as to give added stability to the jersey
To give you the ultimate in comfort and performance, Assos used their female-specific cut for the best anatomical fit
THE KEY FEATURES
Made of type.002 fabric for increased comfort and softness
First time the ASSOS blocks have been used on a women's jersey
Mono-stretch type.220 material on the back
Anatomically cut for the feminine form
CONCLUSION
Taking all of their experience in jerseys for the hottest summer days, the new SS.laalaLaiJersey_evo7 will ensure that you are able to perform at your best when temperatures rise.
Press Review

"The Assos SS.laalalaiJersey_evo7 is a superb summer jersey in terms of both comfort and functionality; if you are happy with the price tag, you certainly get a quality garment. Initial impressions of this jersey were that 'there's nothing to it'; all of the material used is exceptionally thin and lightweight. Assos' type.002 material is used for the main body – it's a thin, stretchy fabric that glides over the skin while simultaneously wicking away any moisture and allowing good airflow." Read Full Review
Size Chart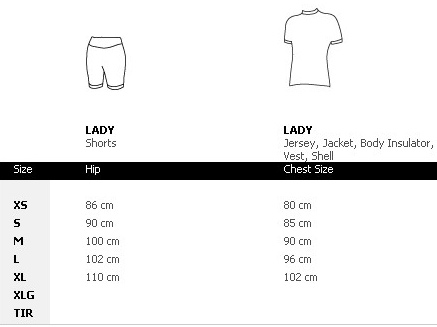 Manufacturer's Code: 12.20.258.15.XS
Customers who bought this item also bought