High5 Protein Recovery Drink 9x60g Box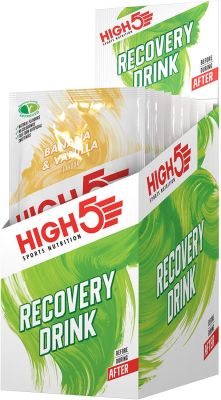 High5 Protein Recovery Drink 9x60g Box
Banana/Vanilla
€17.10
Add to Cart
shopping_cart
Chocolate
€17.10
Add to Cart
shopping_cart
Berry
€17.10
Add to Cart
shopping_cart
A delicious tasting shake for use after exercise. Recovery Drink contains 18g of whey isolate, a top quality source of protein which contributes towards muscle growth and maintenance.
Recovery Drink is a delicious tasting protein drink. The ingredients used in this scientifically formulated blend of protein and carbs promote recovery of normal muscle function after exercise and contribute to the growth and maintenance of muscle mass.
Muscles become sore and stiff when they are stressed during exercise. The depletion of muscle glycogen (muscle carb stores) can impair muscle function resulting in fatigue and reduced exercise performance. The unique forms of protein and carbohydrate in Protein Recovery are chosen to ensure you recover after intense long lasting exercise and turn up ready to perform at your next training session.
Features
High in whey protein isolate (which contains BCAA's).
Contributes to muscle growth and muscle maintenance
Promotes recovery of normal muscle function
Suitable for vegetarians
Recovery Drink is designed to be taken AFTER exercise.
Batch Tested Products
As part of our Drugs Free policy, we provide products that have been batch tested. If you require products from a batch that has been tested for substances on the WADA Prohibited List, then please select the "Batch Tested" option in the flavours menu. This will be shipped with a certificate from our accredited lab. Please note that we do not use banned ingredients and have never had a failed test.
Manufacturer's Code: HI5PR540BNVN-BOX, HI5PR540CH-BOX, HI5PR540BER-BOX
Barcodes: 5027492002652, 5027492002669, 5027492002676