Kryptonite Aveune F-65 Usb 1 Led Front Light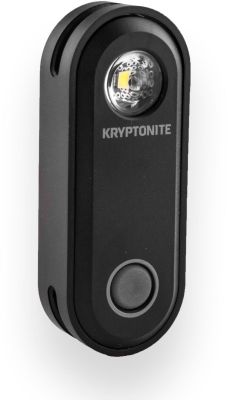 Kryptonite Aveune F-65 Usb 1 Led Front Light
Black
€29.00
Add to Cart
shopping_cart
Sold-Out
Why don't you browse other
Lights
in stock.
THE NEW STREET LIGHT SERIES
Highest Lumen and feature combination… AT THE RIGHT PRICE!
Features
DAYTIME PULSE MODE — Be seen with differing flash pattern.
NIGHTTIME PULSE MODE — Be more visible at night with unique flash pattern.
ECONOMICAL FLASH MODE — When battery is less than 10%, eco mode kicks in and you'll be able to get home safely.
SIDE LIGHTING FOR MORE VISIBILITY!
FLEXIBLE MOUNTING OPTIONS — Mount front lights vertically or horizontally AND on head tube.
MEMORY MODE – Saves you time by storing your last mode.
LOW BATTERY AND CHARGING INDICATORS.
| Features | Run time (hrs) | Lumen |
| --- | --- | --- |
| High Steady | 1:30 | 65 |
| Low Steady | 4 | 25 |
| Daylite pulse | 6 | 65 |
| Nitelite pulse | 6 | 10/30 |
| Economic flash | 15 | 10 |
Manufacturer's Code: EHK2001