Garmin Edge 25 GPS Bicycle Computer
Garmin Edge 25 GPS Bicycle Computer
Now
$125.19
+ Free Postage to Ireland and UK
You save $83.84 = 40%
ONLINE ONLY
This product is available in our online store only. Not available on shop floor. However you can buy it online and collect in-store.
Compact, Easy-to-use GPS Bike Computer With Connected Features. Tracks your distance, speed and time.
You can also use it to navigate and follow new rides. Compatible with Heart Rate Strap (not included)
Features
Tracks distance, speed and time
Plan, download and follow new rides
Save, plan and share your activities at Garmin Connect™
Water-resistant, durable device
Connected features, for instant data upload and LiveTrack

Go the extra mile. Edge 25 captures essential stats from your ride, including time, distance, speed, total ascent and location. When paired with a heart rate strap¹, it also records your heart rate and heart rate zone so you'll know when you hit your target. Heart rate compatibility also provides more accurate information on calories burned during your ride.
In the Box
Edge 25
Standard mount
Charging/data cradle
Manuals
Small, But Powerful
Edge 25 offers all the necessary stats you need to take your ride to the next level. Small in size, yet packed with features such as smart notifications when paired with a smartphone.
Stay on Course
Choose from courses ridden by others, or create your own on Garmin Connect, our free online community. Once a course is chosen, you can upload it directly to Edge 20 and follow to arrive at your desired destination.
Ride Faster, Ride Further
Edge 25 lets you know how fast and how far you're riding. When paired with ANT+® sensors², you can also track cadence, as well as indoor speed and distance.
Live Tracking
When paired with Bluetooth®, Live Tracking lets friends and family follow your ride in real time. Invite followers using email or social media, which lets them view your live data on Garmin Connect.
No Data, No Problem
Edge 25 uses GPS/GLONASS satellites to track how far, how fast and where you ride, even under dense tree cover. Unlike a phone, you can use Edge 25 for up to 8 hours without worrying about data or battery drainage.
Get Connected
With a simple connection to your Mac® or PC, you can upload your activities to our free online fitness community, Garmin Connect. Here, you can see the path you traveled on a map, analyse it, share it and view more detail.
Segments
Compete against other cyclists on Garmin Connect segments and see your results post-ride on the leaderboard. Includes on-device alerts for segment start/finish points.

"This product is in many ways designed to stem the tide of budget bike GPS computers chewing into what was previously Garmin's turf. Companies like Cateye (with the Strada Smart), Lezyne, and Wahoo (RFLKT/RFLKT+) have been weighing in with new units that for many riders offer the baseline required functionality at the right price. But before we get into too much analysis, let's talk specs." Read Full Review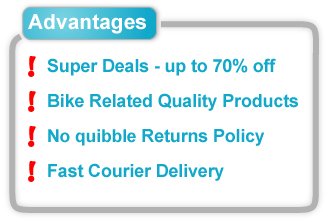 What is CycleSuperDeal?
Every week we offer our customers one Bike-Related Top Brand Product at a massive reduced price. Often below cost.


This offer is available for limited time period
(All Wednesday: from 00:01 till midnight Irish Time)
or as long as stock lasts. So Better HURRY!


This is online offer only. This offer is not available in store


Don't miss out. Sign Up now for our CycleSuperDeal Newsletter


See our Previous Deals to know what you can expect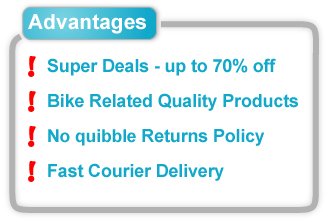 Terms & Conditions
Product Information:
No responsibility is accepted whatsoever for supplying full and accurate product specifications – please consult with the appropriate manufacturer's website for these.
Ordering:
There is a limit of 4 items per order, due to the nature of the offer and to ensure everyone has a fair chance to avail of it.
Delivery Cost:
Free Shipping to Ireland & UK
You cay collect your order in-store, where it will be held for you from the following day (usually Thursday).
Delivery on the Cycle SuperDeal offer is available only in Ireland & UK.
Payment:
The Realex Payment Gateway is our chosen payment services provider, which guarantees industry-leading security for your transaction.
Shipping:
Orders are shipped using GLS Courier services.
Please allow up to 7 working days for delivery of the Cycle SuperDeal items.
Please ensure you are familiar with the applicable delivery charge listed above.
Products in the Cycle SuperDeal are listed separately to those of the Cycle SuperStore website and the deal is sold as a separate entity and as such cannot be combined with the shopping basket functionality or other products of the Cycle SuperStore website.
All deliveries require signature upon receipt and exact delivery times cannot be guaranteed.
Collection in the shop:
It is possible to collect your Cycle SuperDeal purchase in our store.
Please note is not possible at any time to purchase or request to purchase the Cycle SuperDeal items in-store as it is exclusively a web-based offer.
Items will only be available for collection on the day following the offer (usually Thursday).
Items will be strictly held for 7 days only and failure to collect your item during this will result in the item being returned to stock.
In this eventuality, a 25% restocking charge will apply.
Sold Out:
As there are limited quantities of Cycle SuperDeal products for purchase, it can be that on occasion the product becomes sold out before everyone who wishes to has made a purchase. Due to these limited quantities, once the item has sold out, the Cycle SuperDeal is concluded and we do not re-stock or re-order more product to satisfy outstanding demand.
Returns Policy:
Our Returns Policy for the Cycle SuperDeal matches exactly that of the overall Cycle SuperStore Returns Policy and is a strictly No-Hassle policy.
Faulty Goods:
Please consult the Cycle SuperStore Returns Policy for full details of the procedure in the event of Faulty Goods.
Endura Humvee 3/4 Baggy Shorts Mens & Womens
You save $40.20 = 44%
Road Emergency Pit-Stop Kit
You save $33.31 = 37%
Shimano Breakaway Short Sleeve Jersey
You save $50.53 = 44%
Shimano Active Pedaling Bib Shorts
You save $65.46 = 48%
Pearl Izumi All Road V4 Shoes Mens & Womens
You save $45.94 = 40%
Maxxis Welter Weight Road Tubes 10 Pack
You save $34.46 = 40%
Endura MT500 Spray Baggy Short
You save $56.28 = 49%
Endura Hummvee Ray II LTD Short Sleeve Jersey
You save $27.56 = 41%
Madison Track Shorts mens & womens
You save $17.23 = 43%
Park Tool PCS 9 Home Mechanic Repair Stand
You save $53.98 = 34%
Endura Urban Jean
You save $41.35 = 31%
Continental Ultra Gator Skin DuraSkin Wire Road Tyres & Tubes Twin Pack
You save $57.43 = 45%