Cycliq Fly12 Smart Bike Camera
Cycliq Fly12 Smart Bike Camera
Now
$206.17
+ Free Postage to Ireland and UK
You save $159.04 = 44%
ONLINE ONLY
This product is available in our online store only. Not available on shop floor. However you can buy it online and collect in-store.
Smart technology, elegant engineering
"I've come to really appreciate the Fly12's safety features—to the point where I don't really want to ride without it now. It gives me and my wife some peace of mind" - Gardy Raymond / Bicycling
Key Features:
Full HD Video with Audio
400 Lumen Front Light
Incident Protection Technology
WiFi & Bluetooth Connectivity
Strava Integration + 3 months Strava Premium Account Plan
Theft and movement bike Alarm
In The Box
Fly12
SD Card Adapter
Quick Bolt
Quick Start Guide
Standard Tripod Mount Adaptor (1/4 inch)
Micro USB Cable
Safety Tether
16GB Class10 MicroSD Card
31.8mm Universal Handlebar Mounting Kit
Press Reviews

"With all of that said, Cycliq is trailblazing with its combo lights and cameras. Even though the Fly12 big, it's still smaller and lighter than mounting two separate units on your bars. While it's not cheap, it costs less than some comparable action cameras, and is cheaper still if you add in the cost of a 400 lumen front light. Considering its battery life and wireless connectivity, the Fly12 is miles ahead of many of its competitors." Read More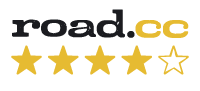 "It worked in all conditions and I used it while riding through floods on EU referendum day in London without it impacting at all. This is due to the innovative use of nano technology from Cycliq; it keeps out the water well and I didn't have any issues, even in some of the wettest conditions I have ridden in." Read More
Features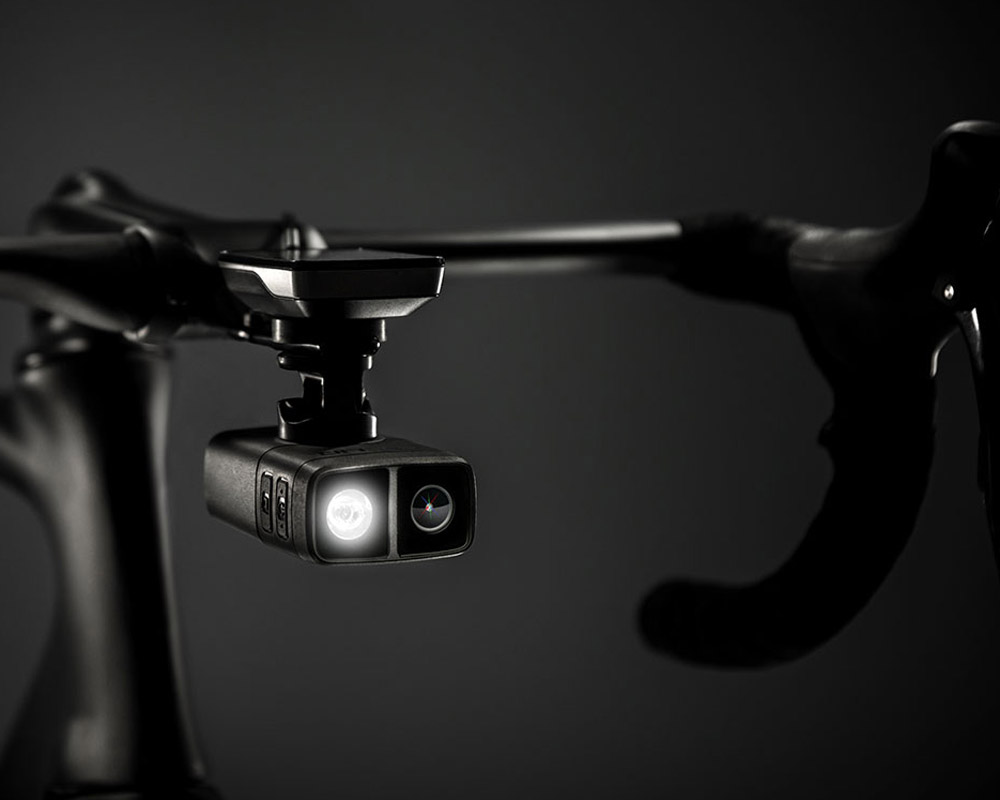 FULL HD BIKE CAMERA WITH AUDIO
Fly12 records in crisp FULL HD. The high-quality wide-angle lens captures everything around you in clear visual detail with audio. Various frame rate and resolution settings can be configured through the CyliqPlus app (max 1080p @ 45fps or 720p @ 60fps).
Packed with safety features and smart technology, Fly12 is the only camera that delivers for cyclists.
WIDE ANGLE LENS
The ultra wide angle lens records special moments, incidents, license plates in a 135 degree arc of footage. You'll capture everything that is happening in front of your bike in great detail.
AERODYNAMIC DESIGN
The aerodynamic profile makes Fly12 the ideal forward facing camera for cyclists. The bike camera will fit elegantly above or below your handlebars and will have little impact on drag. The unit will automatically detect which way is up and adjust the video accordingly.
400 LUMEN LIGHT
The bright 400 lumen LED light brightens the darkest of roads and trails. It will illuminate an extra-long pathway and ensure other road users will see you in day light as well as at night. The cone-shape beam enables you to mount Fly12 both above or below the handlebar. The light has a beam length of up to 78ft / 24m.
MULTIPLE LIGHT MODES
Multiple brightness levels and light mode settings, including solid on, pulse and flash can be configured through the CycliqPlus app and the unit remembers these for your next ride.
EASY TO USE
Fly12 has two buttons. Hold and press the power button to turn the unit on/off. Short press the power button to cycle through the various light modes. The WiFi button turns on WiFi for transferring your videos to the CycliqPlus app and enables you to safeguard footage while riding.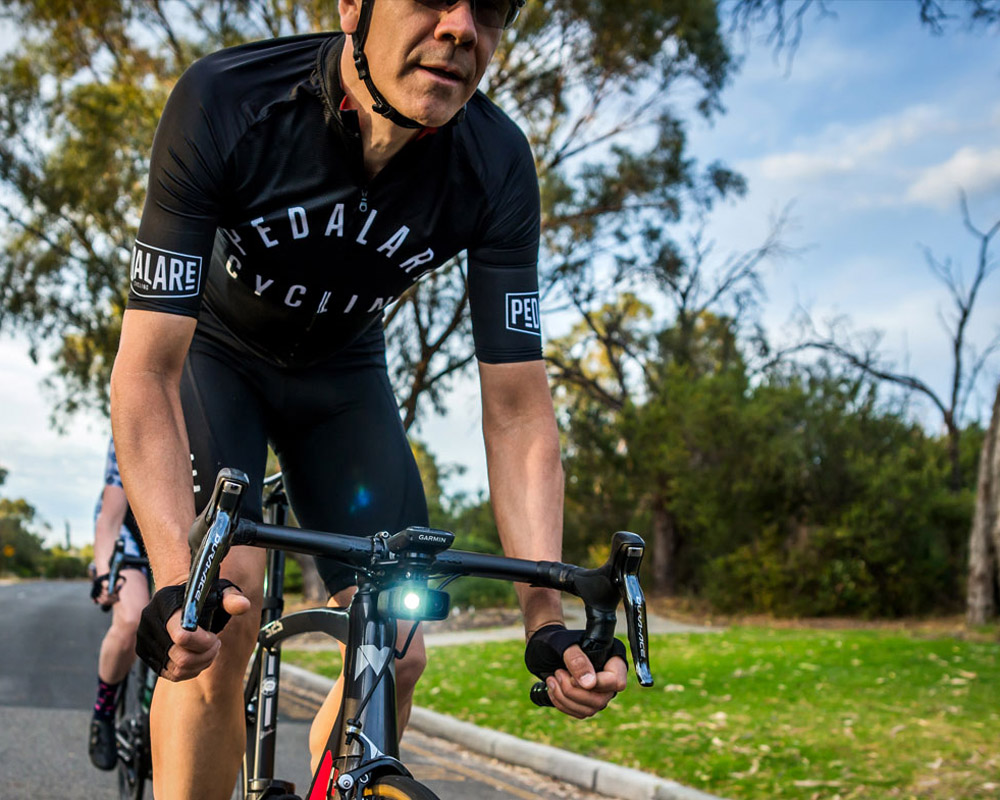 MASSIVE BATTERY POWER
Fly12 is the only camera/light combination on the market to last up to 10 hours in camera mode. It's engineered to outlast your long rides and commutes. Every time you turn your unit on/off, you'll be notified of the remaining battery level with audible alerts.
Battery Life
Bike Camera + Solid on full 400 Lumens = 2 hours
Bike Camera + Pulse on full 400 Lumens = 4 hours
Bike Camera only = 10 hours
Audible Alerts
4 beeps = 75%+ charged
3 beeps = 50%+ charged
2 beeps = 25%+ charged
1 beep = 5% charged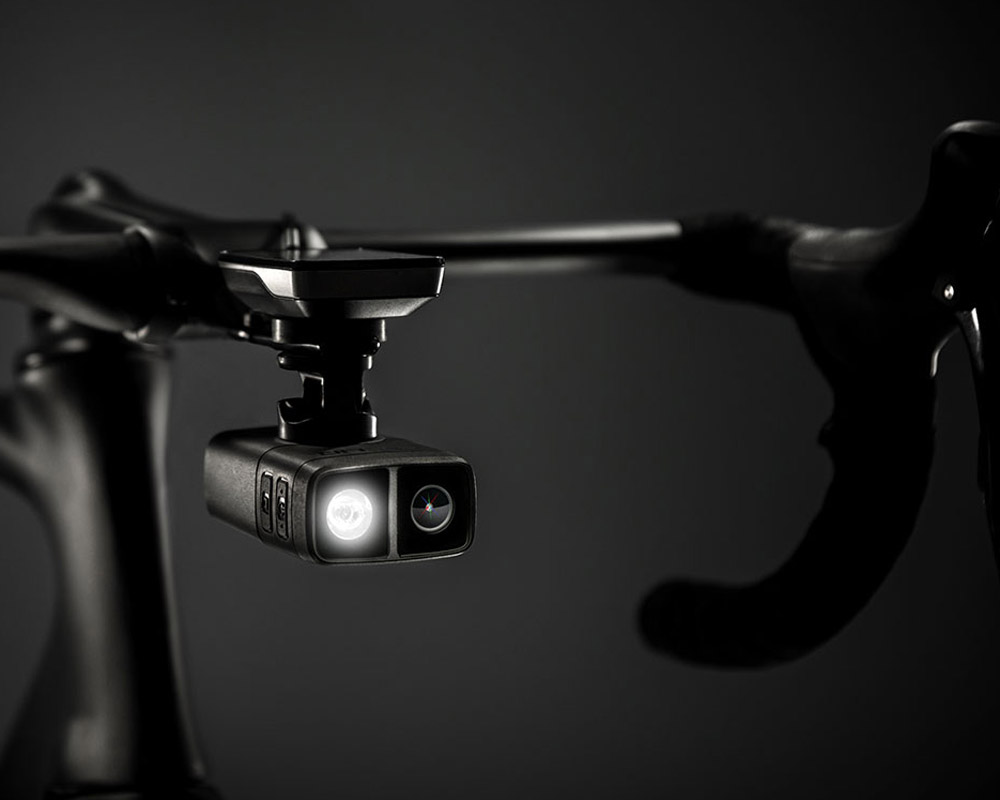 HOME SAFE MODE
If your battery depletes below 5% during operation, 3 long beeps will sound. Audio and video recording will then turn off to save battery power. The light dims down to 100 Lumens and will continue to function for approximately 1.5 hours to make sure you can get home safely.
BLACK BOX TECHNOLOGY
If your device is tilted more than 60° for 5 seconds, Incident Protection Technology is activated. Three quick beeps will sound and your Fly12 will continue to record for 30 minutes then lock away your footage before turning off. This ensures that you will always capture footage before and after an incident.
THEFT AND MOVEMENT BIKE ALARM
Turn Fly12 into a bike alarm via the CycliqPlus app. When the unit is moved, the alarm will sound, begin to flash and record. You will also receive an alert notification on your smartphone.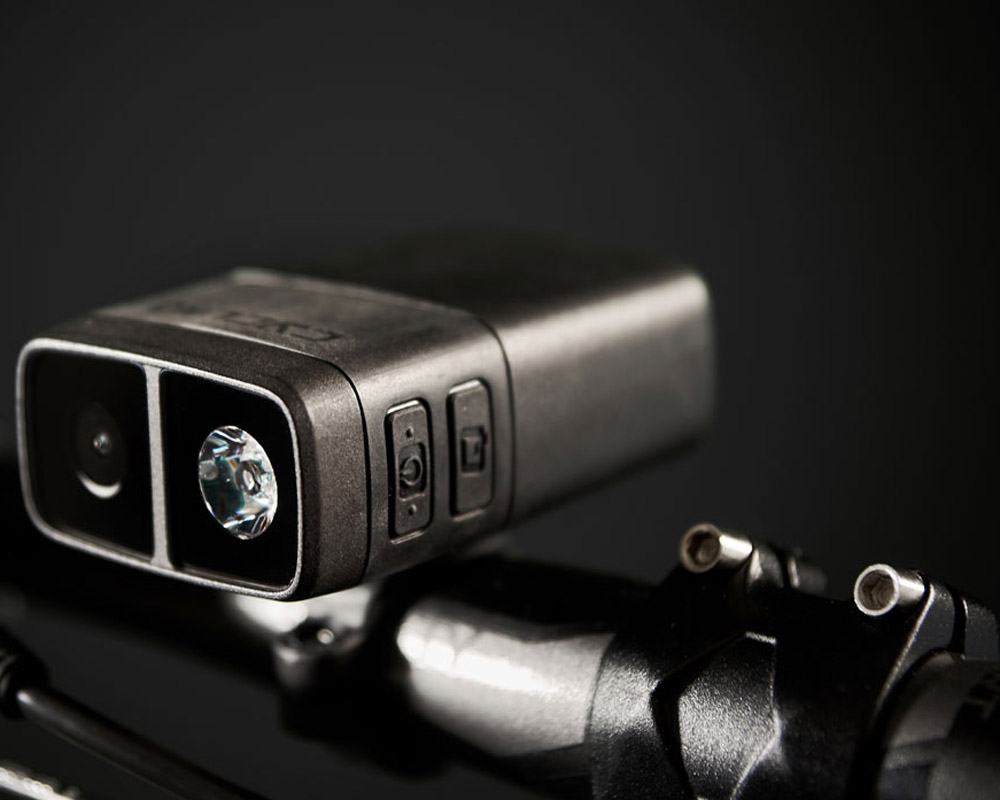 WATER AND WEATHER RESISTANT
Using nanotechnology, Fly12 is made weather resistant. On a nano-level, a hydrophobic coating protects both the inside and outside from corrosion. A safe-guard for nature's surprises.
SAFE PASSING DISTANCE TECHNOLOGY
With our world-first safe passing distance tramline guides, you can assess whether motorists are abiding by safe passing distance legislation or driving too close for comfort. You can even include a map of where you were riding using Strava GPS data.
MULTIPLE MOUNTING OPTIONS
Fly12 ships with an industry-standard 31.8mm handlebar mount. Made from 6063 aluminium for its high tensile properties and corrosion resistance, it's built to endure.
You can mount Fly12 above or below the handlebars. Fly12 automatically detects which way is up and will adjust the footage accordingly.
Fly12 makes us of the standard action camera mounting fins, so it can attach to a wide range of accessories.

Specification
VIDEO
1920 x 1080 @ 45 fps
1920 x 1080 @ 30 fps
1280 x 720 @ 60 fps
1280 x 720 @ 30 fps
Video File Type: MP4
Encoding: h.264
Time Stamp: MMMM DD YYYY HH:MM:SS
Sensor Viewing Angle: Ultra Wide
File Sizes: 5 Minute Files up to 750MB (1080@45fps)
AUDIO
Internal Microphone
Compression: 48KHz Samping Rate, AAC Compression, Auto Gain Control
MEMORY
16GB Class 10 microSD Card Included (Supports up to 64GB)
BATTERY
Charging Capacity: 4400mAh
Voltage 3.7v
Up to 10 Hours Run Time
WEATHER PROOFING
Nano Technology
IP Rating: 55
LIGHTING
Solid, Flashing, Pulse and Studio
DIMMING SETTINGS
High, Medium, Low and Off
LIGHT OUTPUT
Up to 400 Lumens
Beam Length: up to 78ft / 24m
Weight & SIZE
8.6oz / 244g
H: 1.4in / 36mm
L: 4in / 103.7mm
W: 2.3in / 60.9mm
CONNECTIVITY
Bluetooth: 4.0 BLE
WiFi Streaming: 802.11 bgn
PORTS
Charging: MicroUSB(USB2.0)
Connection: MicroUSB(USB2.0)
Memory: MicroSD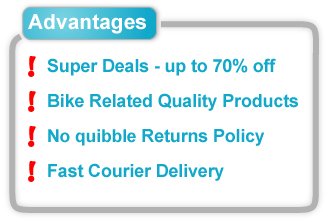 What is CycleSuperDeal?
Every week we offer our customers one Bike-Related Top Brand Product at a massive reduced price. Often below cost.


This offer is available for limited time period
(All Wednesday: from 00:01 till midnight Irish Time)
or as long as stock lasts. So Better HURRY!


This is online offer only. This offer is not available in store


Don't miss out. Sign Up now for our CycleSuperDeal Newsletter


See our Previous Deals to know what you can expect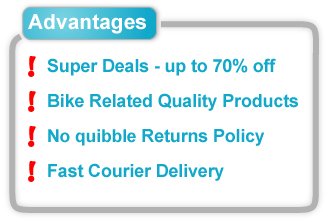 Terms & Conditions
Product Information:
No responsibility is accepted whatsoever for supplying full and accurate product specifications – please consult with the appropriate manufacturer's website for these.
Ordering:
There is a limit of 4 items per order, due to the nature of the offer and to ensure everyone has a fair chance to avail of it.
Delivery Cost:
Free Shipping to Ireland & UK
You cay collect your order in-store, where it will be held for you from the following day (usually Thursday).
Delivery on the Cycle SuperDeal offer is available only in Ireland & UK.
Payment:
The Realex Payment Gateway is our chosen payment services provider, which guarantees industry-leading security for your transaction.
Shipping:
Orders are shipped using GLS Courier services.
Please allow up to 7 working days for delivery of the Cycle SuperDeal items.
Please ensure you are familiar with the applicable delivery charge listed above.
Products in the Cycle SuperDeal are listed separately to those of the Cycle SuperStore website and the deal is sold as a separate entity and as such cannot be combined with the shopping basket functionality or other products of the Cycle SuperStore website.
All deliveries require signature upon receipt and exact delivery times cannot be guaranteed.
Collection in the shop:
It is possible to collect your Cycle SuperDeal purchase in our store.
Please note is not possible at any time to purchase or request to purchase the Cycle SuperDeal items in-store as it is exclusively a web-based offer.
Items will only be available for collection on the day following the offer (usually Thursday).
Items will be strictly held for 7 days only and failure to collect your item during this will result in the item being returned to stock.
In this eventuality, a 25% restocking charge will apply.
Sold Out:
As there are limited quantities of Cycle SuperDeal products for purchase, it can be that on occasion the product becomes sold out before everyone who wishes to has made a purchase. Due to these limited quantities, once the item has sold out, the Cycle SuperDeal is concluded and we do not re-stock or re-order more product to satisfy outstanding demand.
Returns Policy:
Our Returns Policy for the Cycle SuperDeal matches exactly that of the overall Cycle SuperStore Returns Policy and is a strictly No-Hassle policy.
Faulty Goods:
Please consult the Cycle SuperStore Returns Policy for full details of the procedure in the event of Faulty Goods.
Madison Waterproof Jacket Mens & Womens
You save $53.01 = 47%
Respro Hump Spark Waterproof Trousers Mens & Womens
You save $23.56 = 34%
Ultimate Pump Set: CO2 Mini Pump & Track Pump
You save $40.06 = 41%
Shimano Transit Softshell Jacket Mens & Womens
You save $70.69 = 48%
Madison RoadRace Light Thermal Jersey
You save $54.19 = 44%
Shimano S3000X Neoprene Overshoes
You save $23.56 = 36%
LOOK Pulse Short Sleeve Jersey
You save $53.60 = 48%
Electron F-650 650 Lumen Front Light
You save $17.67 = 30%
Pearl Izumi Elite AmFib Cycling Bib Tights
You save $89.54 = 51%
Madison Prime Urban Waterproof Jacket
You save $36.52 = 39%
Endura SingleTrack Lite Shorts Mens & Womens
You save $35.34 = 40%
Maxxis Welter Weight Road Tubes 10 Pack
You save $41.23 = 47%