CEP Dynamic+ Womens Short Compression Run Socks
CEP Dynamic+ Womens Short Compression Run Socks
Price:
RRP: $23.27
Save: 20%
Lime/Pink - L
In Stock
2-3 Days Delivery Time
$18.61
Teal/Pink - S
In Stock
2-3 Days Delivery Time
$18.61
Perfect for the athlete looking for added support and improved shoe fit, with targeted compression in the foot and ankle area provide support while reducing the instance of swelling.
CEP Short Socks are the hottest new trend in legwear. They feature metatarsal compression in the mid-foot region and fit like a glove for ultimate comfort. High-tech fibres processed using state-of-the-art manufacturing technologies guarantee optimum heat and moisture management. CEP Short Socks are the perfect all-rounders and can be worn for all sports. They also fit perfectly with CEP Calf Sleeves.
Features
Perfect anatomical fit and blister prevention
Highest quality materials and premium craftsmanship for extreme durability
Microfiber technology for superior comfort
Extra-flat toe seam prevents pressure points
20 mmHg compression rating
Metatarsus compression zone for arch stabilization
Optimized Achilles tendon protector
Heat and moisture management thanks to hydrophilic design
Air channels for ventilation in the foot region
Antibacterial, odor-reducing properties
Material
85% Nylon (Polyamide)
15% Spandex
4 CHALLENGES

Performance You Can Feel
From the moment you put them on, CEP's proprietary compression profile gets to work on optimizing blood in the lower leg.

Perfect Fit
CEP's mastery of compression knitting technology yields socks that are engineered to anatomic perfection. Right and Left Specific construction and Gender specific measurements create a fit that is unmatched in performance socks.

Proven Performance Technology
CEP's unique mix of Consistent and Graduated Compression Technologies optimizes arterial and venous blood flow in the athlete. The result is increased endurance, sustained power and reduced chance for injury.

Always Comfortable/All Conditions
Wicking and drying performance is elevated by CEP's compression fit. Moisture management and Odor control technologies keep your feet dry, cool and comfortable.
Size Chart
XS: Size 2
S: Size 3
M: Size 4
L: Size 5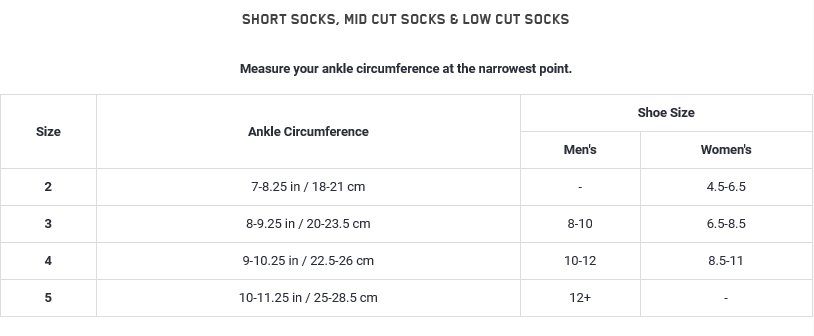 Manufacturer's Code: WP4B704, WP4BF02