Karcher OC3 Mobile Outdoor Cleaner
Karcher OC3 Mobile Outdoor Cleaner
In Stock
Ready for despatch
$187.14
Leave the dirt where you found it
Whether you're a mountain biker, a dog walker, a camper or simply love spending time in the great outdoors, trailing mud into your car, tent or caravan is never a happy end to the day. What's more, leaving dried-on dirt on your outdoor equipment doesn't do it any favours - it's much better to rinse it off as soon as possible. That's where the Kärcher Portable Cleaner comes in - a simple and lightweight solution for cleaning on the go. The Portable Cleaner is easy to store in your car boot or caravan, with a 4 litre water tank and a 5 bar pressure that's perfect for rinsing off your bike, wellies, dog or pushchair at the end of a muddy day. When you're finished, the spray gun and hose stores away tidily, with extra accessory kits available for efficient ad thorough cleaning of bikes, pets and outdoor equipment. This machine comes with a 2 year warranty.
Key Features
4 litre water tank
Integrated Battery
Efficient but gentle low pressure
Compact design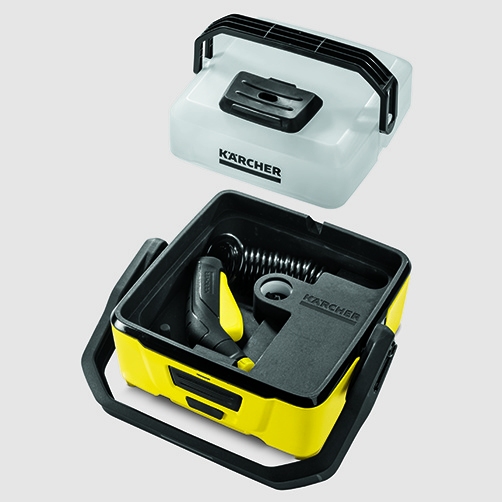 Compact design
Convenient storage of the spiral hose and trigger gun under the removable water tank. Easy to transport, with space-saving storage.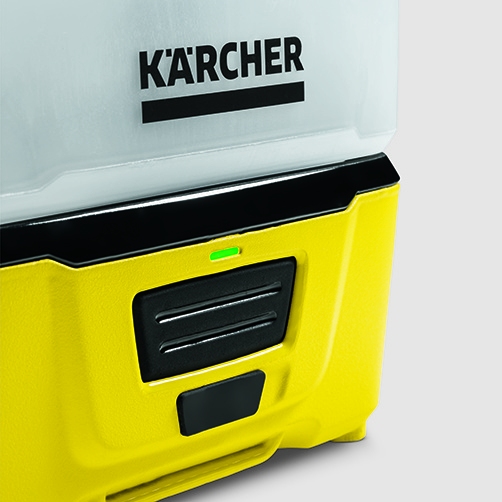 Integrated lithium-ion battery
Cleaning independent of a power source. Long battery runtime, meaning it can be used several times before it must be recharged. The LED warns you when the battery is low.
Specification
Pressure range Low pressure / Low pressure
Max. flow rate (l/min) max. 2
Weight without accessories (kg) 2.2
Dimensions (L x W x H) (mm) 277 x 234 x 201
Battery running time (min.) 15
Battery charging time (min.) 180
In The Box
Integrated water filter
Water tank volume, 4 l
Lithium ion battery
Spiral hose, 2.8 m
Flat jet nozzle
Battery charging cable
Press Reviews

"The pressure that comes out of the OC3 isn't particularly powerful, but that's kind of the point. Rather than pummelling bearings and seals into oblivion with a high-pressure blast, the low-pressure water spray is primarily called upon for washing off a bike that's already wet and muddy from riding" Read more