Price:
RRP: $243.38
Save: 30%
Black/Yellow - L
In Stock
2-3 Days Delivery Time
$170.37
Black/Yellow - XL
In Stock
2-3 Days Delivery Time
$170.37
How to use it
Suits all round use, but with such great temperature regulation this jacket is especially good when you want to take it up a notch. It is designed for optimal performance when worn over an ASSOS body insulator with the matching SS or LS skin.Foil_Spring/Fall_s7 both perfect choices. In some conditions you may look to fine tune your outfit by using a skinFoil from an adjacent season.
As part of the tiburu climaRange made for the changeable spring and fall conditions, ensure you are equipped with a protective cycling rain shell such as the blitzFeder.
ASSOS exists to serve the rider with the finest equipment for every single ride. As such, outfitting the rider for the sometimes overlooked conditions of spring and fall is especially important to us. The tiburuJacketLaalalai is a fine demonstration of that focus. It's a perfectly judged midweight piece to manage the broad array of seasonal conditions that we call tiburu, an amalgam of the best of our range.
Wind and rain are handled by a front panel of stratagonUltra milleRighe, an exclusive ASSOS textile that is necessarily both lightweight and breathable. Beyond this, there is attention to detail from every angle. From the Pavé Tex arms to the Sens Heavy Tex cuffs, every element of the tiburu women's jacket comprises high end materials with a carefully calibrated balance of insulation and breathability. It all comes together with a design developed and trialed with our in house testing team - witness the minimal stitching and the taped cuffs and waist, details which take the performance on the road to another level. This is not an in-between bike jacket. It's just right.
Features
stratagonUltra milleRighe: Technologically advanced ASSOS exclusive fabric; this is a thermo-response membrane designed to keep the rider dry when they sweat and protect them when it rains. Consists of a two layer memoryFoil shield composite that is water impermeable and responds to conditions with a flexible barrier function.
Pavé: A lightweight, fast drying warm-weather fabric with push-pull technology to insulate as well as breathe. Ideal properties for a wide range of conditions and rides.
Craq: Flat knit fabric with 4-way stretch. Contours to the body for ideal fit and reduced drag.
Sens Heavy Tex: Maximum comfort material, used here to hone the feel of the cuffs.
Raglan cut sleeves: Sleeves that are integrated all the way into the shirt rather than just attaching at the shoulder. Offers maximum freedom of movement and a slick, flowing fit.
Raw-cut cuffs: High end finish which eradicates the hem for upgraded comfort. Internally signals the garment's climaRange with a yellow accent.
ASSOS standard pockets with triple ramp concept: Thoroughly tested pocket design with a new layout that positions the pockets optimally for ease of access and ensure the contents are secure and stable. Yellow internal accents denote the garment's climaRange.
Ultra-sonic bonding: Method of closely welding parts without stitching. Used on the cuffs to eliminate abrasion and retain heat.
Enhanced safety: Added reflective visibility features for alerting other road users to your presence, incorporated without detracting from aesthetics.
Composition
Size Chart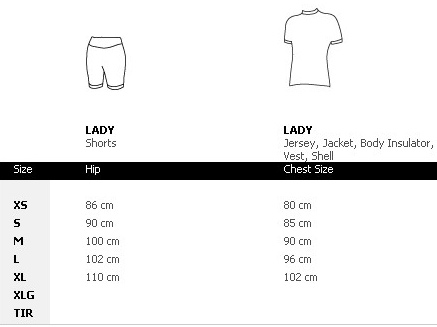 Manufacturer's Code: 12.30.335.18.L, 12.30.335.18.XL