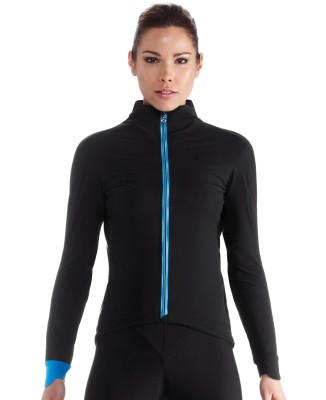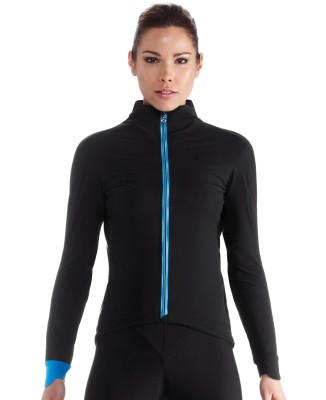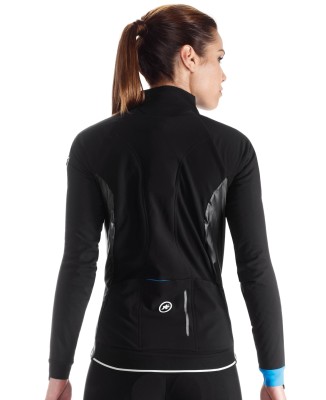 Price:
RRP: €360.00
Save: 35%
Black - XL
In Stock
2-3 Days Delivery Time
€234.00
Cold and wet weather can be a cyclist's gravest enemy, dealing danger as well as distress. In the form of the bonkaJacketLaalalai, our pinnacle women's winter jacket, we are able to offer levels of protection and comfort that will make a difference. From top to bottom, we have methodically dealt with the demands of the season using our unrivalled textiles and apparel know how. This is winter riding redefined.
For the exposed front elements, the ASSOS female cycling jacket employs a TwinDeck of our thermal material RXQ and the wind blocking, waterproof stratagonUltra. On the sides and arms, the lighter but still protective Stratagon Medium fits the bill; an RXQ rear panel offers the requisite warmth with extra breathability and moisture transport. An extra level of protection and comfort comes from the incorporation of an all-new high stretch external EVA layer. The groundbreaking level of detail extends to ultra-sonic welding on the cuffs and an incorporated neck warmer. Fittingly for a cycling jacket of such all-round quality, the blackSeries colourway exudes class, subtly denoting its position in the ASSOS range with blue bonKa accents. For the passionate rider, it's an invitation to defy the conditions. Suffer in comfort this winter.
How to use it
The bonkaJacketLaalalai is there to allow you to ride at your maximum in the bitterest temperatures. The hardest sessions and longest rides are no problem.
This women's cycling top performs best worn over an ASSOS skinFoil body insulator: the LS.skinFoil_earlywinter_evo7 and LS.skinFoil_winter_evo7 are each ideal. In the most severe rain or snow one should reach for a cycling rain shell such as the ASSOS sturmPrinz as an additional outer layer.
Designed to excel in wintery conditions, we recommend ensuring the entirety of your outfit is just as effective. Check out the bonkaGlove_evo7 and bonKaSock_evo7 for complete ASSOS coverage.
Tech Specs
Tri-layered front panels: Remarkably protective fusion of a twinDeck formed from wind blocking, water repellant stratagonUltra with an internal layer of insulating RXQ material.
stratagonMedium: Hydrophilic soft shell material, designed to retain warmth while offering great breathability. Contours closely around the body while being highly abrasion resistant, hence its use for the side panels and upper arms.
RX: Time proven warp-knit fabric from the ASSOS family of RX fabrics. Combines highly effective thermal insulation with quick drying, high abrasion resistance and moisture management. Smoothly and accurately moves with the rider.
RXQ: A lighter weight RX fabric variant used in key areas requiring great breathability. Internal 3D air channels make it a perfect low volume insulator and temperature regulator.
EVA: Windproof and water repellant material with great stretch, new to ASSOS. Employed as an extra external layer on the exposed sides of the jacket.
Wind-protected collar: An ergonomically shaped inner layer of stratagonUltra has been placed in front of the neck to guard from cold air.
Integrated neck warmer: An additional neck warmer located inside the collar that offers the option of extra coverage for early in the ride or in extreme cold.
Turtleneck construction: maximum coverage collar design that contours precisely to the chest. Enables use of the front zip as flexible ventilation without sacrificing necessary insulation of the chest and neck.
Raw-cut cuffs: Raw-cut cuffs: High end finish which eradicates the hem for upgraded comfort. Internally signals the garment's climaRange with a blue accent.
Taped waist: Sealed finish around the edges of the garment. Helps heat retention.
'Triple ramp' concept pockets: With the optimal height for ease of access, we added our distinguished 'triple ramp' pocket concept that prevents any contents from escaping while riding hard. Internal seams fashion an almost-there lid for the pocket.
Rear stabilizer: A 2-way stretch material with minimal give in the vertical axis. The ASSOS rear stabilizer panel design allows for stable, high capacity pockets that won't sag.
Ultra-sonic bonding: Method of closely welding parts without stitching. Used on the cuffs to eliminate abrasion and retain heat.
Reflective accents: Added visibility on the pockets and the full-length front zip with reflective stitching for improved visibility.
Light-absorbing rear elastic hem: a wide, secure elastic hem that ensures a frictionless fit while riding; plus a reflective strip that absorbs light, resulting in added safety when faced by varying light conditions such as riding into a tunnel.
Composition
38% PA
33% PL
14% EA
10% PU
5% PP
Size Chart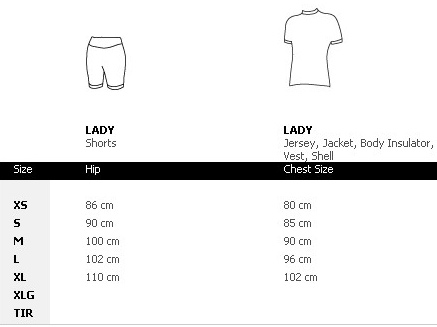 Manufacturer's Code: 12.30.337.18.XL