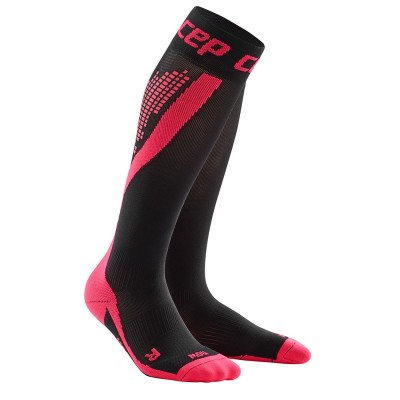 Price:
RRP: $59.21
Save: 30%
Black/Pink - S
In Stock
2-3 Days Delivery Time
$41.45
Black/Pink - L
In Stock
2-3 Days Delivery Time
$41.45
All endurance and team sport athletes
CEP Progressive+ Night Compression Run Socks help you break through the wall that hits you when you push yourself to the limit. Progressive compression technology helps you feel lighter on your feet, and less fatigued, no matter the distance. Socks mold to your feet like a second-skin without restricting toes movement, creating an unparalleled fit guaranteed to prevent blisters and ensure optimal comfort.
Don't let the dark stop you. CEP Compression Nighttech Socks combine our true compression profile, found in our acclaimed Run 2.0 sock and add style and safety with new reflector dots. It is important to be able to continue training in the fall and winter when the days get shorter and visibility is poor; highly reflective colored dots on the back of the socks ensure maximum visibility.
CEP Compression Nighttech Socks feature our proprietary compression profile that is clinically proven to improve performance, and reduce the risk of injury. By increasing circulation, muscles are fueled with more oxygen and nutrients, giving you more power and control during active use, and helping to prevent overuse injuries. CEP's high-tech compression fibers wrap around the leg over 300 times to give calf muscles maximum support and stability. This helps prevent micro tears in the connective tissues that cause shin splints. Air flows easily through the improved heat and moisture venting zone on the front of the shin, pulling sweat away from the body and reducing skin temperature up to 6 degrees Fahrenheit. The sleeve features reflective accents down both sides for 360 degree visibility.
Features
Progressive 20-30mmHg graduated + consistent compression contains the calf muscle and increases circulation, which helps prevent shin splints, delayed onset muscle soreness, and common overuse injuries
Designed with anatomically padded cushioning and a seamless toe-closure for added protection against blisters and hotspots
Unique knit design improves airflow over the skin allows air to cool as it flows through to the skin helping moderate body temperature in warmer weather and humid climates
The Halo top-band lands comfortably below the knee, keeping the compression socks in place, mile after mile
CEP socks mold to your feet without restricting your toes, creating an unparallelled fit that is guaranteed to prevent blisters, and improve shoe fit
Material
85% Polyamide
15% Elastane
Size Chart

S: Size II
M: Size III
L: Size IV
Manufacturer's Code: WP4L432, WP4L434
Barcodes: 4051526791688, 4051526791701