Orca Swimrun Core Womens Openwater Wetsuit
Orca Swimrun Core Womens Openwater Wetsuit

Swimrun Core is a suit designed specifically for swimrun competitions, adapting to the needs of both running and swimming races. The added plus of buoyancy in the lower trunk keeps your legs on the surface while swimming, without limiting your freedom of movement when running.
Features
REMOVABLE SLEEVES
Two removable 2mm neoprene arm sleeves make this suit extremely versatile: sleeves can be removed during the run and put back on for extra buoyancy during the swim.
OUTER POCKET
Its outer side pocket lets you store the obligatory GPS or any nutrition you need.
BUILT-IN WHISTLE
The Swimrun Core comes with a mandatory whistle for swimrun races, so it doesn't get in your way during the competition and can easily be used in an emergency.
EXTENDED FRONT ZIP
Extended front zip makes it easier to get the suit on and off. It also provides ventilation while you run, for optimal body temperature during the race.
Technologies
YAMAMOTO
The Yamamoto Corporation is the world's main supplier of high performance neoprene. Its seal represents quality, technology and innovation.
39 CELL
Yamamoto 39cell is an extremely flexible neoprene which supports an uninhibited natural swimming motion. 39cell extends to a 513% elongation rate, meaning this material is sure to move with you. Added benefits of zero water absorption and zero weight variation can mean only one thing: more speed. A fine balance between buoyancy and flexibility, 39cell is a durable material which will stand the test of time and distance, representing the best neoprene available in it's class.
HYDROLITE
The HydroLite panels help the wetsuit come of easier, for faster transitions. This technology, combined with the SCS coating, helps the water slide off your wetsuit, without impregnating it, considerably improving your hydrodynamics.
INFINITY SKIN
The inner Infinity Skin lining provides the feeling of absolute freedom. Designed based on a high-elasticity nylon that incorporates bamboo fibres, this technology is applied to the lining of our wetsuits to offer you greater flexibility with each stroke. This cloth maintains body heat longer, reduces body odour and the appearance of bacteria in your wetsuit. It is also made from natural eco-friendly materials to prevent the appearance of skin irritation and care for the environment.
Size Chart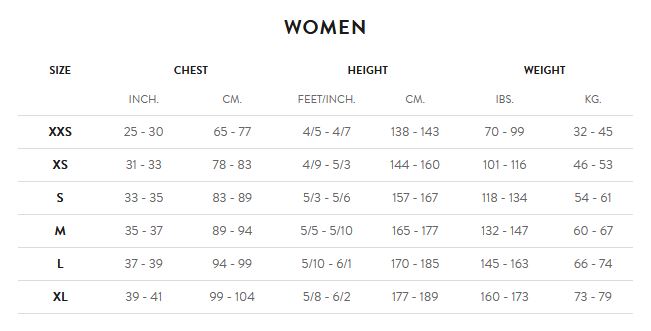 How to put a wetsuit on