Orca 226 Womens Short Sleeve Tri Race Suit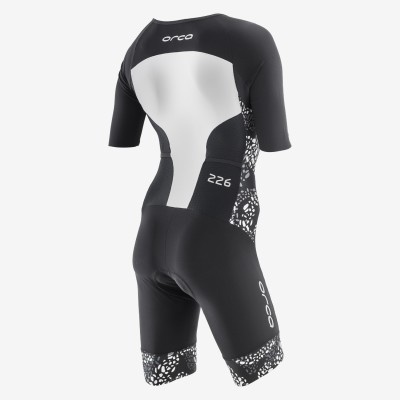 Orca 226 Womens Short Sleeve Tri Race Suit

With its exclusive opening system, the 226 Kompress Aero women's race suit maintains a perfect fitting both on the bike and running. This system enables a complete opening, making it more comfortable in the transitions and toilet breaks. The latest Stretchskin technology improves aerodynamics and offers the muscle support you need. The Revolutional fabric also offers perfect ventilation and quick drying, keeping you fresh and comfortable for the whole race. The suit includes a Tri-tech chamois pad which delivers maximum comfort on the bike without limiting your movement in the race. The ideal suit to take you further.
Features
STRETCHSKIN
This next generation technical fabric fits the body like a second skin to offer the muscle support you need. Its hydrophobic coating keeps the garment dry at all times, while at the same time offering UPF 50+ UV protection.
VAPOUR-COOL
This nanocrystal technology keeps the body fresh and promotes fast wicking so you feel comfortable and cool during the race.
OPENING SYSTEM
The exclusive opening system lets you save seconds in transitions and toilet breaks.
TRI-TECH CHAMOIS
The popular high performance and high quality, 4mm, 120kg/m3 density Tri-Tech chamois pad gives you unprecedented comfort.
STORAGE
The two angled rear pockets, located in the lower part of the back, have all the space needed to store your nutrition within easy reach.
ELASTIC GRIP
The elastic grip in the lower area keeps the shorts in place, delivering unparalleled comfort.
Size Chart