Schwalbe Dirty Dan Downhill MTB Tyre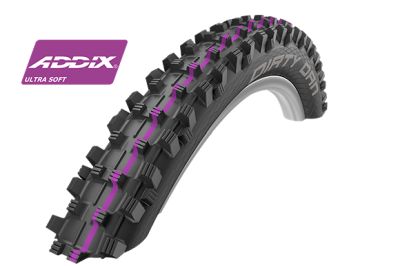 Schwalbe Dirty Dan Downhill MTB Tyre
27.5x2.35
In Stock
2-3 Days Delivery Time
$77.97
The mud specialist
For deep and soft terrain. Aggressive open tread. Excellent braking traction and extremely good self-cleaning characteristics thanks to the large stud gaps. Downhill version: ADDIX Ultra soft (purple). Especially robust, double carcass design with Downhill Apex, clincher tires. Super Gravity version: ADDIX Ultra soft (purple). Puncture-proof (with Apex) with extreme lateral stability for a dynamic ride.
Features
SIDEWALLS: Downhill - A 6 layer carcass and a 7 layer sidewall make these tyres the most durable and almost indestructible. With stable wire bead cores
TPI: 47 TPI (27.5") / 51 TPI (29")
WEIGHT: 27.5"x2.35 1345g

Technology
Addix Ultra Soft
ADDIX ULTRA SOFT is the ADDIX compound for hardcore use in enduro and downhill. Sensationally good damping has been further improved over the previous VertStar compound, while at the same time ADDIX Ultra Soft is suitable for all-weather use due to significantly improved low-temperature properties when it comes to grip and damping.
Downhill
Downhill. Very durable tires. 6 layers of carcass in the center and sturdy 7 fabric layers on the sidewall (SnakeSkin, Apex, 4-ply carcass) make these tires almost indestructible. With stable wired bead cores.
Manufacturer's Code: SCM400