Fulcrum Racing 6D Alu Disc Road Wheelset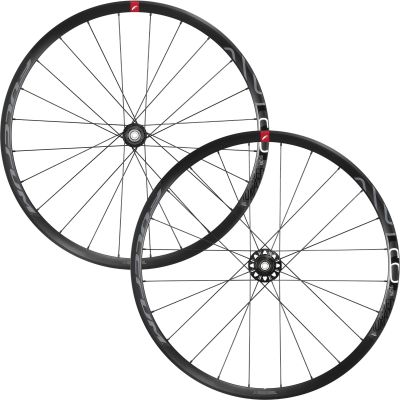 Fulcrum Racing 6D Alu Disc Road Wheelset
Black - Shimano & SRAM
€329.00
Add to Cart
shopping_cart
The racing bicycle that emphasises its sporty side, ideal for those who see the bicycle as an escape from the day-to-day and a way to keep fit and exercise. Racing 6 DB has been designed as a simple, reliable and up-to-date racing bicycle. An ideal package for those seeking a smart solution that's in line with all the latest trends but with that little added plus you only get from a brand that supplies world-class cycling pros. It's a Fulcrum wheel, it's a training wheel, it's the right aluminium wheel for those who are becoming acquainted with the world of racing bicycles and are attentive to details.
Specification
Tyre Type:2-Way Fit Ready
Tyre Size:28"
Weight:1690 G
Rim Material:Aluminum
Rim Material Details:Aluminum, Asymmetric
Rim Height Category:Low
Rim Height:Front And Rear 26 Mm
Rim Width:21,8 Mm, Etrto 17c
Tyre Width: From 25 Mm To 50 Mm
Braking System:Disc Brake
Braking Surface/Braking Options:Afs
Front Axle Compatibility:Qr/Hh15-100/Hh12-100 (No Skewers Incl.)
Rear Axle Compatibility:Qr/Hh12-142 (No Skewers Incl.)
Front Wheel Spokes:24 (16 Left + 8 Right)
Rear Wheel Spokes:24 (8 Left + 16 Right)
Spokes Material:Stainless Steel
Spokes Profile Technology:Rounded, J-Pull
Nipples:Aluminum
Front Hub:Aluminum, Aluminum Flanges
Rear Hub:Aluminum, Aluminum Flanges
Bearings:Sealed Cartridge Bearings
Weight Limit:109 Kg (Cyclist)
Fwb Version:Hg11 Optional: Campy, Xd
Techonology
AFS axle system™
The Axial Fixing System™ is the solution developed by Fulcrum® to fix the disc brake to the hub. The constraint granted by the butt area of the release mechanism, greater than in familiar standard ones, makes it possible to obtain greater structural rigidity and therefore more precise and powerful braking.
Disc specific Rim
Fulcrum® is one of the first wheel manufacturers on the market to offer two completely different rim profiles from disc to conventional brake. So, no adaptation, but a rim conceived based on years of design experience.
Not requiring a braking track, Fulcrum®'s R&D department designed a completely new profile, aimed at saving every single gram of weight and at improving aerodynamic efficiency.
Its greater width makes it a perfect fit for tyres of 25/28mm upwards.
Asymmetric rim
The asymmetry is designed to improve rim tension, balancing the forces from brakes and sprocket cassette.
Monoblock hub for Disc
The rear hub of a top-quality disc brake wheel is a technical problem to be solved. Fulcrum®'s R&D department found itself facing a fundamental choice: on which side to put the oversize flange of the Two-to-one™ system? Disc or sprocket side? Without question - must stay on the sprocket side.
To combat the loss of braking power from flex and torque of the connector between the two sides of the hub, a special one-piece system has been devised with internal stiffening ribs.
Manufacturer's Code: RC6-18DFR