Sealskinz Waterproof Cold Weather Reflective Cycle Glove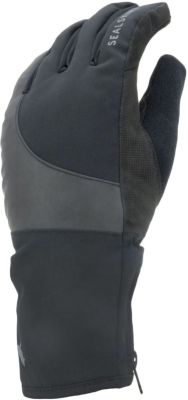 Sealskinz Waterproof Cold Weather Reflective Cycle Glove
Black - S
In Stock
2-3 Days Delivery Time
$81.71
Black - M
$81.71
Add to Cart
shopping_cart
Black - L
In Stock
2-3 Days Delivery Time
$81.71
Black - XL
$81.71
Add to Cart
shopping_cart
Black - XXL
In Stock
2-3 Days Delivery Time
$81.71
A rugged and reflective waterproof cycling glove. Engineered to provide high insulation and visibility, for use when riding in colder conditions.
Key Benefits:
Waterproof - three layer construction for warmth, durability and waterproofing
Enhanced control - Zero liner movement provides excellent control
Visibility - reflective material for visibility in low light conditions
Insulated - Primaloft Gold insulation provides excellent thermal protection and breathability
Durable - AX Suede palm for added grip and durability
Thumb Wiper - Tricot wiper for a variety of uses
100% Waterproof
The perfect barrier between you and the most challenging wet weather. Our products are developed in such a way as to give 100% waterproof protection whilst being incredibly breathable and dexterous. Add in varying layers of insulation means we can offer waterproof products for all climates.
AX Suede
Engineered to provide superior abrasion properties, while reducing water uptake. One of the highest abrasion suedes on the market today, AX Suede can withstand the constant friction of a multitude of activities. This suede also resists water uptake making it less moisture absorbent, improving the control you have
Primaloft
Originally developed under contract for the United States Army as a replacement for regular down becuase down absorbs water and loses its insulating properties when wet. The lightweight and soft Primaloft® insulation core creates millions of air spaces suspended in the mibrofibre mesh. Even when forced into the Primaloft® core, water is repelled and not absorbed by the patented microfibre structure, so Primaloft® keeps you warm, even in the wet
Materials
Outer: Outer: 87% Polyester, 10% Polyurethane, 3% Elastane
Membrane: 100% Polyurethane
Inner: LINING: 100% Polyester
Size Chart:
| | | | | | | |
| --- | --- | --- | --- | --- | --- | --- |
| | XS | S | M | L | XL | XXL |
| Centimetres | 13-15 | 18-20 | 23 | 25.5 | 28 | 30.5 |
To ensure you purchase the perfect fit glove for you, please follow these simple steps:
Relax your dominant hand and measure with a tape measure around the knuckles (excluding the thumb) in inches (your left if you are left handed and your right if you are right handed)
The size that you measure in inches, is your glove size, so if you measure 9 inches, you will need a medium glove.
Please remember that if the gloves are too tight on your hands they may make your hands feel cold, so if in doubt go up a size!
Manufacturer's Code: 12100069000110, 12100069000120, 12100069000130, 12100069000140, 12100069000150
Barcodes: 5055754426960, 5055754426977, 5055754426984, 5055754426991, 5055754427004