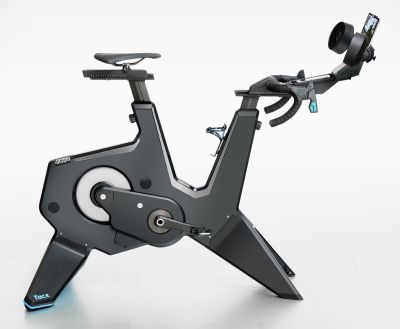 €2,599.00
Add to Cart
shopping_cart
This Revolutionary Smart bike trainer is designed to create an unprecedented, one of a kind and immersive experience. It is equipped with vivacious features like Virtual shifting, Gear Feel and descent simulation. It is without question the most innovative smart bike offering the most realistic cycling experience possible. Compatible with most popular applications like Tacx, TrainerRoad and Zwift.

Key Features:
REALISTIC, AS IT SHOULD BE
Simulating your outdoor ride indoors is what this Smart bike trainer is designed for. With Dynamic Inertia, Road feel and Gear feel the Tacx NEO Bike brings you the most realistic and smooth cycling feeling possible.
EXTREMELY QUIET
The combination of NEO Smart technology and the internal design of the NEO Bike resulted in the most silent indoor bike trainer available.
INCREDIBLY POWERFUL
Unmatched power. The NEO Bike is able to resist sprints up to 2200 watts and simulate climbs up to a 25% incline. Making sure this trainer is able to deliver during the most intense training sessions.
ACCURATE AND RELIABLE
The Tacx NEO Bike measures your power with incredible precision, making sure you that your data is accurate and reliable. This Smart trainer is the only trainer that doesn't require a calibration process. It measures your power with a maximum deviation of 1%.
DYNAMIC INERTIA
Dynamic inertia is developed to control the mass inertia (ride feel) as realistic as possible. In contrast to the mass inertia of a flywheel, Dynamic inertia compensates for weight, speed and angle of inclination. This ensures the most realistic and smooth ride feel.
INTERACTIVE AIR FANS
The two air fans on the handlebars of the NEO Bike are interactive, the air flow will adjust to the speed, power or heart rate you are cycling with. The air flow can also be set at a constant speed.
REALISTIC 'VIRTUAL' SHIFTING
Like your road bike, the NEO Bike is able to shift gears, but only virtual gears. By pressing the up or down buttons on the shifters, you are able to change the gearing of your virtual drivetrain instantaneously. A clear display in the front shows which gears you're in. These virtual gears are customizable with the Tacx Utility app.
PEDAL STROKE ANALYSIS
The NEO Bike Smart measures the position of your left and right leg. This allows you to precisely measure and analyze your pedaling technique in order to develop a more effective pedal stroke.
ROAD FEEL & GEAR FEEL
Experience the feeling of riding over cobblestones or shifting gears. The Road Feel and Gear Feel features simulate the vibrations of different road patterns, but also your virtual chain jumping into a different gear. This immersive feature is unique to the NEO trainer series and can be used with Tacx Films and Zwift.
DESCENT SIMULATION
At the top of a hill or mountain there is always that exciting feeling of accelerating into a descent. Exactly that feeling is what this bike trainer gives you. The NEO Bike accelerates when on a descent.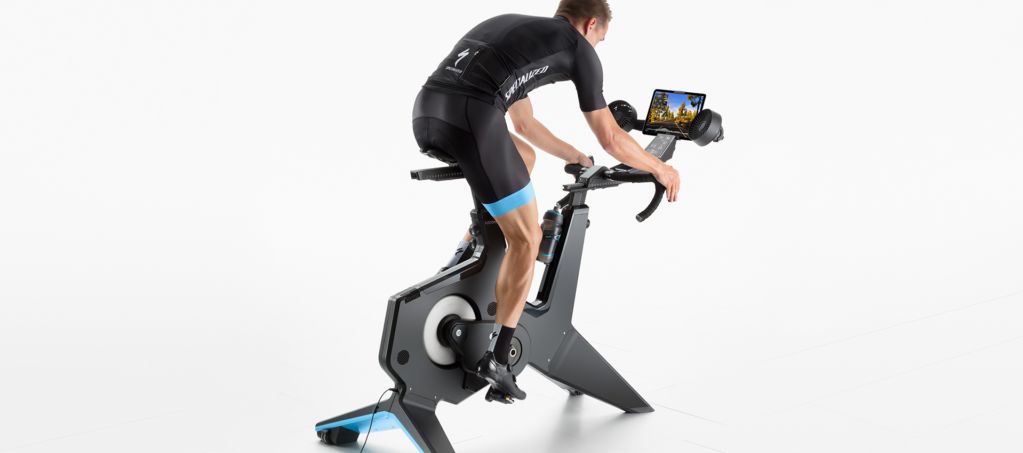 Specifications:
Type of trainer Smart bike with direct drive and motor brake
Magnets 32 Neodymium magnets
Transmission None
Electrical requirements 110-240 Volt , Mains power optional
Power indicator Multicolour LED , Spot on floor
Connection indicator (ANT/BT) 2 LEDs
Firmware upgradable Yes
Gear ratio Chainring set-up: up to 3 sprockets, teeth per sprocket adjustable between 22 and 53 , Rear cassette: up to 12 sprockets, teeth per sprocket adjustable between 11 and 40
Q-factor 147 mm
Supplied with Fans , Tablet mount , Saddle , Handlebars , 2 USB chargers (front) , Sweat cover , Ciro bottle cage , Bottle , Tacx towel , 1 month Tacx Premium software , Pedals and tablet not included
Max. power (40 km/h) 2200 Watt
Max. incline 25%
Simulation of descent Yes
Max. torque 85 Nm
Max. brake force 250 N
Flywheel Virtual
Mass inertia Variable to 125kg (275.6lbs)
Calibration No calibration required
Footprint (lxw) 1390 × 750 mm (54.7 × 29.5 in)
Height 1170 mm (46,1 in)
Dimensions when folded Not foldable
Weight 50 kg (110 lbs)
Wireless communication ANT+ FE-C , Bluetooth Smart open
Control by ANT+FE-C bike computers , Connect to computer via ANT+antenna , Smartphone , Stand alone , Tablet
Output Cadence , Power , Speed
Read out on Bike computer , Computer with ANT+ antenna , Smartphone , Sports watch , Tablet
Accuracy <1%
Manufacturer's Code: T8000