Continental Speed King CX PureGrip 700x35C Folding Tyre
Continental Speed King CX PureGrip 700x35C Folding Tyre
Price:
RRP: $47.69
Save: 10%
The tire designed for racing over solid, dry or frozen terrain.
A fast, scaly central tread design. Suitable for the heat of competition and as a commuter/tourer.
Features
When its dry, dusty and you want to tear up the course, the Speed King CX is tyre of choice
A fast, scaly central tread design offers low rolling resistance, while adds to the puncture protection
Featuring PureGrip compound and a Nytech Breaker, the Speed King CX offers grip, protection and cornering speed
Folding 35C
Weight 400 grams
Technology
The advanced new compound
Based on activated silica compounds, this technology was originally intended as an performance level compound, but after intensive development at our Korbach Research and Development Department Facility, an advanced new compound with outstanding grip and cross-country properties was developed. This new rubber mix, given the self explanatory name "PureGrip", is ranked just behind our BlackChili Compound and is being used in our performance products both in the road and mountain bike sectors. Whilst providing great grip, it is also long lasting and highly durable – both characteristics of Continental tires, which are exclusively manufactured in the factory in Hefei (Asia).
Performance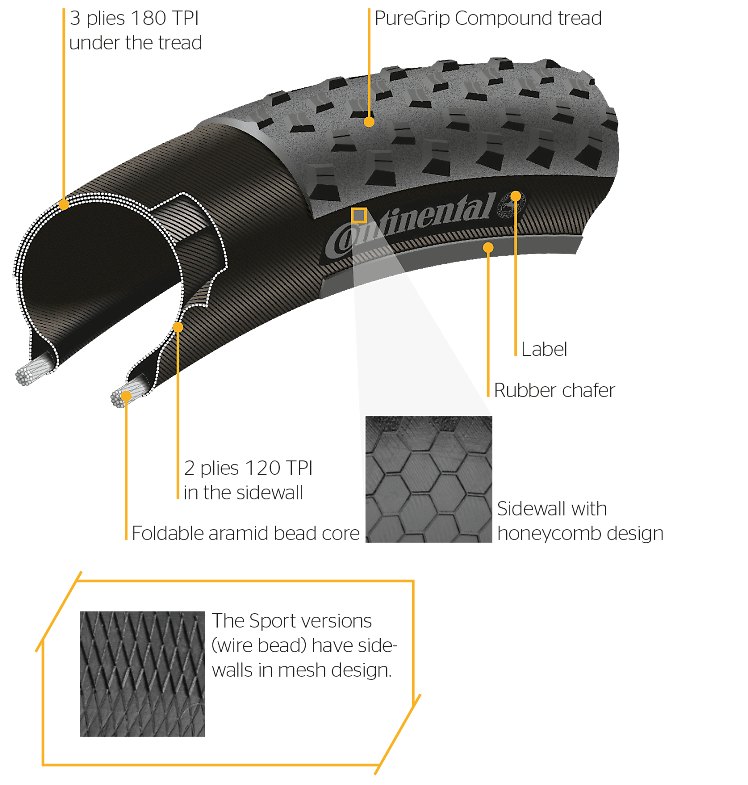 Manufacturer's Code: TYC50279