Maxxis Shorty 60 TPI 3C Maxx Terra ExO / TR Folding MTB Tyre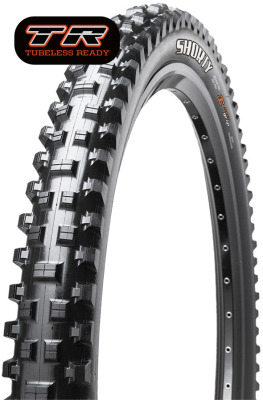 Maxxis Shorty 60 TPI 3C Maxx Terra ExO / TR Folding MTB Tyre
Price:
RRP: $81.46
Save: 10%
26x2.30
In Stock
2-3 Days Delivery Time
$73.31
Our pro athletes needed a mid-spike tire that could handle dry, loose, blown-out corners as well as a bit of mud.
The Shorty is that tire. A high-volume casing makes the Shorty a more versatile option than a dedicated mud spike like our Wet Scream. Large, tall and slightly staggered side knobs penetrate loose soil to provide predictable, stable cornering at warp speeds. The Shorty is available in trail, enduro, and downhill specs.
Features
A versatile mid-spike for deep loam or loose powder
Best for Loose, Mud, Wet
Cornering Control 1 2 3 4
Rolling Efficiency 1 2 3 4
Compound: MaxxTerra Compound Technology
Breaker: EXO Puncture Protection
Max PSI: 60
Tubeless Tyre
Bead Type: Folding
TPI: 60
Weight: 825g
Technology
Dual Compound
Two compounds used within the tread of select tires to offer lower rolling resistance and increased cornering grip
EXO
An extremely cut-resistant and abrasion-resistant material added to the sidewalls of select mountain tyres. This densely woven fabric is also lightweight and highly flexible, ensuring that the performance of the tyre remains unaffected. Choose EXO Protection for exceptionally rocky, treacherous trails where the chance of sidewall cuts and abrasions is high
Tubeless Ready
Tubeless tyres provide the rider with many benefits: the ability to run lower air pressures, which improves traction; lower rolling resistance when compared to a tube-type tyre; and less chance of flatting since there is no tube. Liquid sealants should only be used in the following types of tyres: Tubeless Road, Tubular, and Tubeless Ready. The use of liquid sealants in any other Maxxs tyre will void the warranty
Manufacturer's Code: MXT73309100, MXT85924100, MXT96772100