Price:
RRP: €139.99
Save: 36%
Black - XS
In Stock
2-3 Days Delivery Time
€90.00
Breathable fabrics, full-length protection, and a perfect fit ensure your comfort stays turned up high during high-intensity gym workouts and sunny summer rides.
With their smooth feel and full-length design, the UMA GT Summer Half Tights keep you spinning in total, UV-protected comfort during the sunny days of summer. We used our proven Type.429 fabric to create the tights' leg paneling, as this material is highly breathable, buttery soft against the skin, and features built-in UPF protection.
The fit of the tights falls under our regularFit category, which means they're lightly compressive where they need to be, but not as tight as our racingFit apparel. The fabric panels flex with each pedal stroke, as they're both pre-shaped and sewn to fully wrap and support the upper and lower leg muscles while in motion. The insert is our S7 EVO, featuring 8mm of plush memory foam for total comfort from the outset of every ride, and the fold-over 2L Waist design smoothly wraps across the abdominals for a secure, pressure-free fit. We've also designed an insert-free version of the tights for added versatility, giving you the option to bring the same ASSOS comfort along for gym workouts and active-to-casual duty.
Key Features
Type.429: A comfortable, breathable, lightly compressive textile engineered with 4-way stretch and to maximize elasticity. 429 also features UPF 50+ and built-in odorControl.
Aerofit: An ultrasoft warp-knit applied to the waist, woven with an open structure for maximum ventilation and featuring high elasticity plus built-in odorControl.
UMA S7 EVO: The UMA elastic interface insert, evolved. New black colorway, and our proven 8mm of memory foam, this female-specific insert is nestled at the intersection between comfort and performance.
3D waffle: A patented, three-layer perforated foam that increases breathability and eliminates excess weight.
goldenGate: A patented technology that interrupts the stitching along both of the insert's side panels, allowing a more three-dimensional freedom of movement in this sensitive, rotational area.
2L Waist: Fold-over front panel design creates a smooth, pressure-free transition between the body and fabric.
Reflective Accents: Small strips placed on the backs of the legs for added visibility.
regularFit: Optimized for total comfort in the riding position, with a more relaxed cut than our second-skin racingFit.
Composition: 80%PA, 20%EA
Size Chart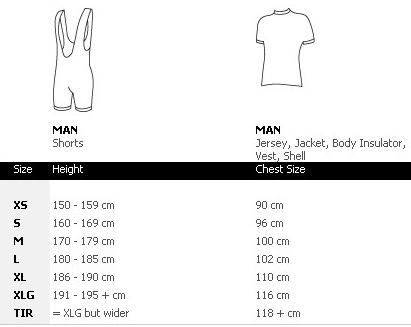 Manufacturer's Code: 12.14.209.18.XS