Cannondale Hollowgram SL 45 KNOT 700c Shimano Rear Wheel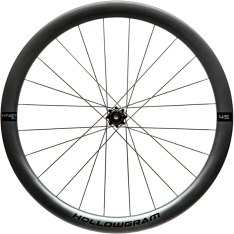 Cannondale Hollowgram SL 45 KNOT 700c Shimano Rear Wheel
Shimano - Black
In Stock
2-3 Days Delivery Time
€1,150.00
One of fastest wheels on the planet
The KNØT 45 wheels are some of the absolute fastest wheels on the planet, producing less drag across the entire yaw-weighted spectrum than the best offers from the competition. Even more impressively, they were designed specifically around larger volume (26 mm and up) tires, so they deliver this aero advantage with all the benefits in comfort, grip and rolling resistance that bigger tires can offer.
Features
The 45 mm deep rim is the ideal & perfect depth for alps passes to hammering the flats.
21 mm inner width – increases the effective tire volume. On these wheels, a 23c tire measures over 26 mm wide, and a 25c over 28 mm wide. Larger tires offer the potential for lower inflation pressures, greater comfort and better grip.
Huge 32 mm outer rim width – Helps air flow off a large tire (26+mm) re-attach more smoothly to the rim, reducing drag. Only possible with disc-only design. Optimized for 23c (26 mm) tire but, unlike other wheels, the KNØT 64 design exhibits minimal change with even larger tires, giving riders the option to go bigger without significant aero penalty.
Specification:
Rear Wheel
Hub Size: 142x12
Disc Brake: Centerlock
Body: Shimano
Manufacturer's Code: CP8200U1070