Enervit Just Flow Vitamin Tabs 36 Capsules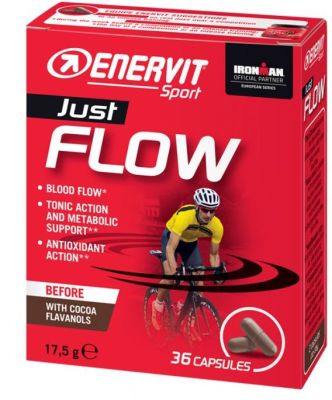 Enervit Just Flow Vitamin Tabs 36 Capsules
$23.65
Add to Cart
shopping_cart
Enervit Just Flow is a vitamin supplement with cocoa extra titrated in flavanols. The suggested dose (2 capsule a day) provides 200 mg of cocoa flavanols. Cocoa flavanols help maintain the elasticity of blood vessels, which contributes to normal blood flow (*the beneficial effect is obtained with a daily intake of 200 mg of coca flavanols).
Take 2 capsules a day. Swallow the capsules with a glass of water.
Do not exceed the recommended daily dose. Keep out of the reach of young children. Food supplements should not be used as a substitute for a varied diet. The product should be used as part of a varied and balanced diet and a healthy lifestyle. Store in a cool, dry place.
Nutritional Informations

Cocoa extract titrated in 30% flavanols (Theobroma cacao L. semen, maltodextrin) (74%) - Glazing agent: hydroxypropyl methyl cellulose - Thickener: hydroxypropyl cellulose - Anti-caking agent: magnesium salts of fatty acids - Vitamin B1 (thiamin hydrochloride) – Vitamin B2 (riboflavin). May contain milk, soybeans, eggs.
Manufacturer's Code: EV98479