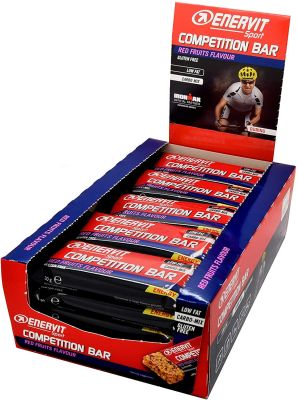 Red Fruit
$59.92
Add to Cart
shopping_cart
Sold-Out
Why don't you browse other
Bags
in stock.
RICE AND OAT FLAKES BAR WITH VITAMIN B1 AND VITAMIN B6. RED FRUITS FLAVOUR. GLUTEN-FREE.
Nutritional Informations

Ingredients
Glucose and fructose syrup (33,3%) - Rice flakes (rice flour, corn semolina, sugar, salt) (22,6%) - Oat flakes (gluten-free) (17,5%) – Maltodextrin - Bulking agent: polydextrose - Wild berries in granules (4,4%)- Black cherry in pieces (2%) - Cocoa butter - Isomaltulose*** (0,4%) - Emulsifier: lecithins – Flavouring - Colour: plain caramel - Microencapsulated vitamin B6 (pyridoxine hydrochloride, emulsifier: mono- and diglycerides of fatty acids) - Thiamin hydrochloride. ***Isomaltulose is a source of glucose and fructose. May contain milk, nuts, peanuts, soybeans, sesame seeds. *Thiamine contributes to normal energy-yielding metabolism.
WARNINGS
This product should be used as part of a varied and balanced diet and a healthy lifestyle. Store in a cool, dry place.
Manufacturer's Code: EV98629