Enervit Liquid Gel Competition 18x60ml Box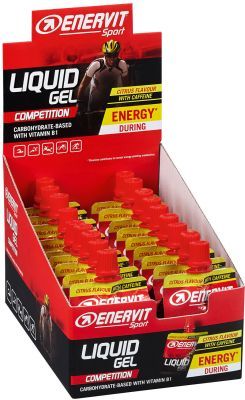 Enervit Liquid Gel Competition 18x60ml Box
Citrus
€80.40
Add to Cart
shopping_cart
Enervit Sport Liquid Gel Competition is a carbohydrate-based product for the practice of sports. It is a source of thiamine that contributes to normal *energy-yielding metabolism.
Nutritional Informations

Ingredients
Water - Maltodextrin (22,8%) - Fructose (17%) - Acid: citric acid - Flavourings - Caffeine (0,035%) - Thiamin hydrochloride. Percentages indicated in g/100 g (100 g = 85 ml).
HOW TO USE
Take 2 cheer packs during physical activity. Larger quantities (up to a maximum of 4 cheer packs) can be taken depending on the duration and intensity of the effort. Once the cheer pack is opened, store in a refrigerator and consume within 48 hours.
WARNINGS
This product should be used as part of a varied and balanced diet and a healthy lifestyle. Once the cheer pack has been opened, keep it in the refrigerator and use within 48 hours. High caffeine content. Not recommended for children or pregnant or breast-feeding women (42 mg/100 ml).
Manufacturer's Code: EV98855