Wahoo Elemnt Bolt V2 GPS Bike Computer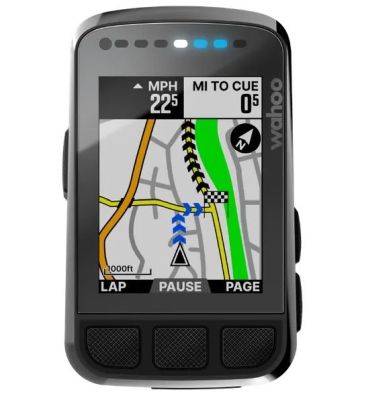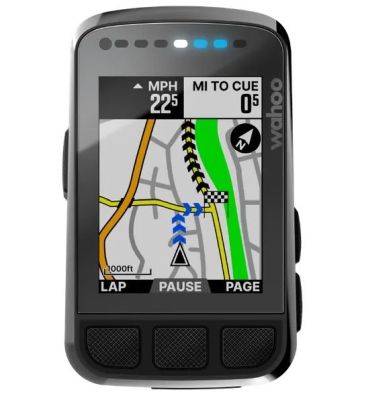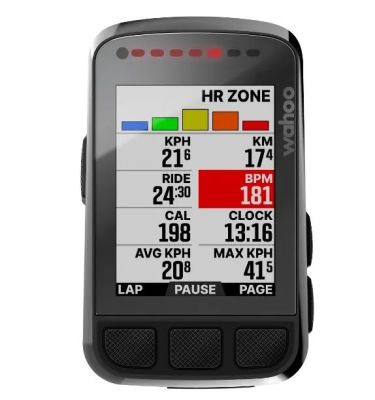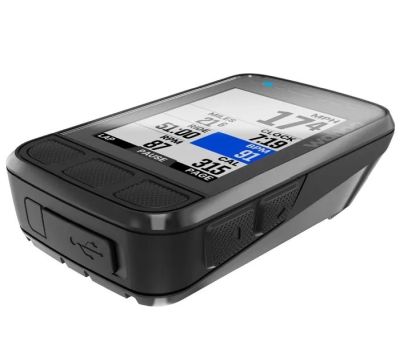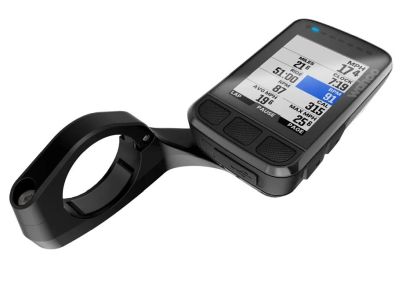 Wahoo Elemnt Bolt V2 GPS Bike Computer
In Stock
2-3 Days Delivery Time
€299.99
ELEMNT BOLT is purposefully built to provide a simple, intuitive ride experience in a sleek, aerodynamic design.
This GPS bike computer features a 2.2 inch, 64 color screen with an ambient light sensor to make it easy to see the metrics that matter most, at a glance. Perfect View Zoom, Quicklook LEDs, and customizable data pages allow you to personalize your device setup to ensure it's a helpful companion from the beginning to the end of your ride.
With 16GB of memory and on-device navigation features, ELEMNT BOLT can store the maps and routes you need to keep you on track and re-route on the fly. BOLT has a battery life of 15 hours and can be charged mid-ride thanks to its USB-C charging. Equipped with Bluetooth Smart, ANT+, and WiFi technology, ELEMNT BOLT pairs seamlessly with all of your cycling sensors and complementary devices to get the most out of your time training. Designed for performance and engineered for simplicity - the ELEMNT BOLT GPS Bike Computer makes every second count.
The ELEMNT BOLT is a fully integrated GPS bike computer, with a full list of compatible hardware and smartphone apps.
A UNIFIED FRONT
Wahoo was the first to develop a computer and mount that work together, creating a truly aerodynamic bike computer. The fully integrated ELEMNT BOLT offers a streamlined platform to reduce drag and its out-front design puts your performance front and center.
EASY-SENSE BUTTONS
ELEMNT BOLT has three easy-sense convex top buttons. Their placement and tactile feel let you effortlessly locate them and toggle through workout screens—even when wearing long-finger gloves—so you can spend less time looking down and more time focused on your ride.
A SEAMLESS TRANSITION
Multisport Handover tracks and automatically shares real-time bike segment time between ELEMNT BOLT bike computer and ELEMNT RIVAL sport watch. Triathletes can now stay focused on the task at hand – their race-day performance.
TRAIN WITH PURPOSE
ELEMNT BOLT is fully integrated with TrainerRoad, TrainingPeaks, and Today's Plan. Quickly find training plans and execute structured workouts that you can ride outdoors or indoors on any Wahoo Smart Trainer. Your workout data is always automatically sent back to the apps, making it easy to set, track and achieve your performance goals.
EXPLORE MORE
With 16GB of on-board storage you have the ability to store more maps, more race courses and more route packs, letting you prioritize your training needs, not your bike computer's storage needs.
In the Box
ELEMNT BOLT Unit
Integrated Out-front Mount
Stem Mount
Zip Ties
USB-C charging Cable
Quick Start Guide
Important Product Info Guide
Specifications:
Unit Dimensions 3.05" x 1.86" x .84"
Display Size 2.2 in / (55.9 mm)
Display Type 64 - Color
Display Resolution 320x240
Weight 2.4oz (68.38 grams)
Battery Rechargable Lithium Ion
Battery Life 15 Hours
GPS Functionality Built-in
Supported Satellites GPS, GLONASS, BEIDOU Galileo, and QZSS
Water Rating IPX7 (Waterproof up to 5 ft)
Mount Types Integrated out front and Stem
Altimeter Yes
LED Lights 1 row customizable
Perfect View Zoom Buttons Yes
Ambient Light Sensor Yes
Operating Temperature -4°F to 122°F / -20°C to 50°C
CONNECTIVITY
Wireless Connectivity ANT+®, BLUETOOTH®, and Wi-Fi®
Sensor Compatibility ANT+® and BLUETOOTH®
Phone Compatibility iPhone and Android
RIDE FEATURES
Companion App Yes
Customizable Screen Yes
Alerts Call, Text, and Email
Live Tracking Yes
ANT+ Radar Alerts On-screen and LED
Route Syncing BLUETOOTH® and Wi-Fi®
Automatic Route Downloads Yes
Automatic Workout Uploads Yes
NAVIGATION FEATURES
Included Maps Austria, Belgium, Denmark, France, Germany, Netherlands, Sweden, Spain, Canada, United States, Australia, England, Scotland, Wales, Australia
Free Additional Maps Downloadable over Wi-Fi® via ELEMNT Companion App
Turn By Turn Directions Device generated as well as routes from Ride With GPS, Komoot, Strava, and any other routing source file
Get Me Started (navigate to start of the route) On-device
Back On Track (on-demand rerouting) On-device
Route To Start (shortest route) On-device
Take Me To (on-demand route generation) On-device and In-App
Retrace Route On-device
Saved Locations On-device and In-App
INTEGRATIONS
Planned / Structured Workout Apps Today's Plan, TrainerRoad and TrainingPeaks
Routing / Navigation Apps Ride With GPS, Komoot, Strava
Mountain Bike Trail Apps Singletracks and MTB Project
Race Plan Apps BestBikeSplit
Electronic Shifting Systems Shimano Dura Ace Di2, SRAM eTAP, FSA WE, and Campagnolo EPS
Radar ANT+ Radar Systems
Crash Protection Specialized ANGi
Tire Pressure Monitor Systems ANT+ TPMS *More Info
E-Bike ANT+ LEV *More Info
Muscle Oxygen Sensors BSXInsight and Moxy
Pedal Monitors Pioneer
Indoor Trainers Wahoo Smart Trainers and ANT+ FE-C equipped trainers
Navigation Features:
INCLUDES GLOBAL MAPS
Pre-loaded with maps of North America, Europe, and Australia. Maps for Russia, Asia, and Africa can be downloaded over WiFi via the ELEMNT Companion App.
ON-DEVICE TURN BY TURN NAVIGATION
The ELEMNT BOLT will automatically generate turn-by-turn prompts for routes and file types; including GPX files, TCX files, and routes imported from Strava, Ride With GPS, and Komoot. Top LEDs and audible cues let you know, at-a-glance, what your next turn is or if you've gotten off-course.
TAKE ME TO (ON-DEMAND ROUTE GENERATION)
Take Me To allows you to create a route with turn-by-turn directions by simply selecting a location directly on the ELEMNT BOLT map page, using its pan and zoom, or by selecting from one of your saved locations. In the ELEMNT Companion App, enter a destination, address, or point of interest and generate a route with turn-by-turn directions and sync it to the ELEMNT BOLT via Bluetooth.
RETRACE ROUTE
Either directly on the ELEMNT BOLT or in the ELEMNT Companion App, selecting Retrace Route will provide turn-by-turn directions to route you back to the starting point of your ride by reversing the route you just rode.
SAVED LOCATIONS
Save your favorite locations either directly on the ELEMNT BOLT or in the ELEMNT Companion App so you can easily generate a route on the fly and get turn-by-turn directions to your frequently visited spots.
GET ME STARTED (NAVIGATION TO START OF THE ROUTE)
Get Me Started is an on-device navigation feature that will give you turn-by-turn directions to the starting point of your route. When selected, ELEMNT BOLT will create a route for you; just follow the blue chevrons and when you reach your planned route, the chevrons will turn black
BACK ON TRACK (ON-DEMAND REROUTING)
Back on Track is an on-device navigation feature that will reroute you with turn-by-turn directions. If you take a wrong turn or veer off course, the ELEMNT BOLT will show blue chevrons directing you back to your planned route, and the chevrons will turn black when you are back on track.
ROUTE TO START (SHORTEST ROUTE)
Route to Start is an on-device navigation feature that will find the shortest way back to the start of your ride and create turn-by-turn directions. No need to follow the same route back home!
MOUNTAIN BIKE TRAIL INTEGRATIONS
Automatically sync your To-Do List from MTB Project and your Wishlist from Singletracks to your ELEMNT over WiFi or Bluetooth.
AUTOMATIC ROUTE DOWNLOADS & WORKOUT UPLOADS
When synced with compatible accounts (Strava, Ride With GPS, Best Bike Split, Komoot, MTB Project, SingleTracks), your saved routes will be automatically & wirelessly downloaded to the ELEMNT BOLT. Completed rides will automatically upload to all authorized third-party accounts.
ROUTE SYNC VIA BLUETOOTH
Route syncing can be done over Bluetooth! Automatically send any route to the ELEMNT BOLT from your smartphone with the ELEMNT Companion App.
Manufacturer's Code: WFCC5