Assos Chamois Cream Mens 200ml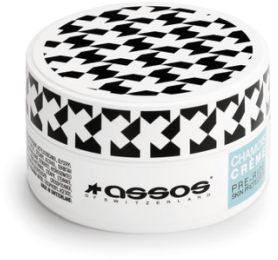 Assos Chamois Cream Mens 200ml
In Stock
2-3 Days Delivery Time
€22.00
By decreasing friction and avoiding bacterial and fungal infections on your skin, ASSOS Chamois Creme makes lengthy rides more pleasurable and comfortable.
Now available in an exclusive new version, ASSOS Chamois Crème uses natural extracts to protect your skin from frictional irritation and bacterial growth.
Apply a thin layer of Chamois Creme to your skin and padded insert before you ride.

In order to further increase riding comfort, we recommend the use of ASSOS Chamois Creme. The ASSOS Chamois Creme reduces friction and keeps your skin cooler. It prevents inflammation and has antibacterial properties. Apply directly on the skin (avoid intimate areas) before each ride. Furthermore, after every laundering, apply a thin layer onto the shorts' insert. This to maintain suppleness, elasticity and antibacterial properties. Used by many professionals regardless of the brand of their shorts. ASSOS Chamois Creme – simply a must. Don't leave home without it!
Manufacturer's Code: 13.90.920.99