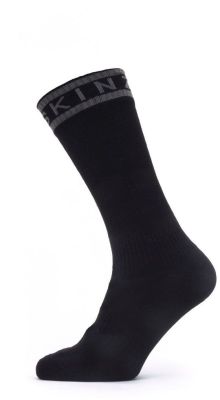 We pioneered the use of a unique hydrophilic membrane that's 100% waterproof yet pulls moisture away from your skin at the molecular level -- keeping you dry and cool all at the same time. With a Hydrostatic Head of >20,000mm and the addition of Hydrostop™ technology, which creates a barrier between your skin and the sock to help prevent water from coming in through the top of the sock, our socks stay waterproof under the toughest of conditions.
Please note that due to the close bond between sock cuff and skin, over prolonged use, some people may experience minor skin irritation due to the Hydrostop™ barrier rubbing against the skin. For those who experience any irritation, we recommend that Hydrostop™ socks are only used outdoors and not for a prolonged period of time.
Features
We took our original waterproof sock and gave it a bamboo liner to help you stay dry and cool in the warmer months.
With the added protection of Hydropstop™, these socks are designed to keep you dry and on the move in wet and warm conditions.
Wet feet are super uncomfortable and can lead to all sorts of not-so-good things outdoors.
Stay dry and comfortable in our Waterproof Warm Weather Mid Length Socks with Hydrostop™ while in rain, muddy conditions, standing in leaky waders, and through stream crossings.
In serious downpours water can bead up on bare legs and calves and egress into the socks through the top. So we invented Hydrostop™, a silicone-like (although it is silicone-free) elastic taping around the inside cuff of the sock. This added protection reduces the chances of water dripping down your leg into your sock. Problem solved.
Featuring a three-layer bonded construction that combines a bamboo lining for moisture control and comfort, a 100% waterproof hydrophilic membrane, and a durable nylon blend exterior with 4-way stretch for great fit and wearability.
Particularly noteworthy is the unmatched breathability of the hydrophilic waterproof membrane to release perspiration steam and warm air from inside the sock. This creates a high level of comfort for the wearer, even while performing strenuous and aerobic activities, while also preventing rain, mud, and sand from getting inside the sock.
Designed with a seamless construction including hand-linked flat toe seams and the addition of elastic support on the ankle, heel and instep, you won't notice the seams but will definitely notice the extra comfort and fit.
Exclusively handmade in the UK to our unrelenting standards and attention to detail, every single sock is hand-tested for waterproofness.
Specifications
Outer Layer - 94% Nylon, 6% Elastane
Middle Layer - 100% Hydrophilic Membrane
Inner Layer - 75% Bamboo Rayon, 22% Nylon, 2% Elastane, 1% TPU
Size Chart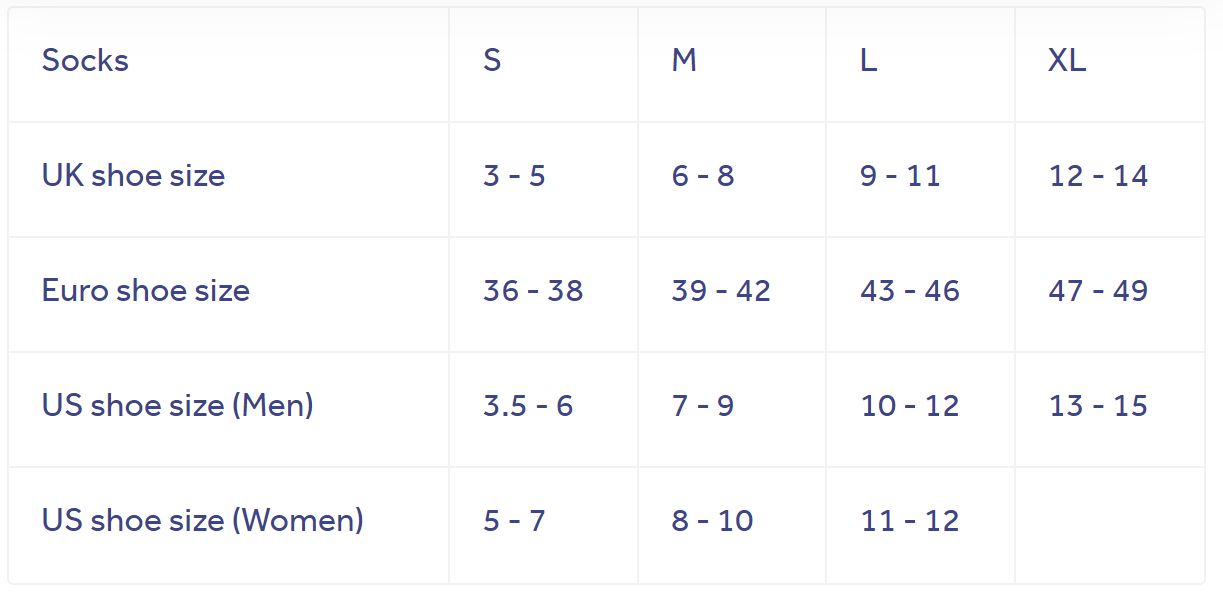 Manufacturer's Code: 11100057110010, 11100057110020, 11100057110030, 11100057110040
Barcodes: 5055754433814, 5055754433821, 5055754433838, 5055754433845