Sealskinz Waterproof Cold Weather Roll Cuff Beanie Hat with LED Light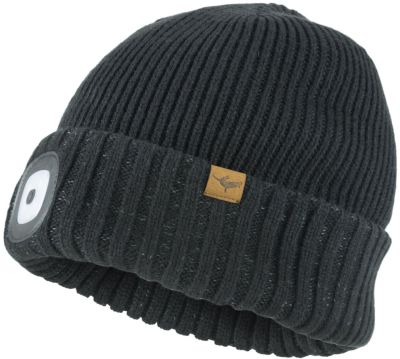 Sealskinz Waterproof Cold Weather Roll Cuff Beanie Hat with LED Light
Black - S/M
$43.58
Add to Cart
shopping_cart
Black - L/XL
In Stock
2-3 Days Delivery Time
$43.58
Black - XXL
In Stock
2-3 Days Delivery Time
$43.58
A trusty companion in the cold, wind, and darkness. The Waterproof Cold Weather LED Roll Cuff Beanie is not only 100% waterproof making it a next level winter hat, but it also has an LED keeping you visible in low light conditions.
A wet and cold head can lead to all sorts of not-so-good things outdoors. This LED Roll Cuff Beanie will keep you dry and warm in rain, snow, and mud, through blustery walks with the dog, and brisk rainy hikes. The only all-around beanie you'll need to keep you dry, safe, and cosy all winter long.
Features
We designed the Roll Cuff Beanie to keep you dry, warm, and protected on winter walks, rainy hikes, and even working outside in cold and wet weather.
Emitting a bright light ensuring you are seen, this LED beanie will keep you going in low light conditions when you need to be visible.
Toggle between three brightness settings and trust that you'll be safe and seen with 240 hours of battery life and visibility of up to 500m.
Using a unique three layer construction that combines a waterproof membrane with a warm and stylish acrylic knit outer layer and a fleece lined inner layer, you'll stay warm and toasty in snow, cold, and rain.
Size Chart

Manufacturer's Code: 13100034000115, 13100034000135, 13100034000150
Barcodes: 5055754430226, 5055754430233, 5055754430240