Ineos Sport Equipment Sanitiser Spray 400ml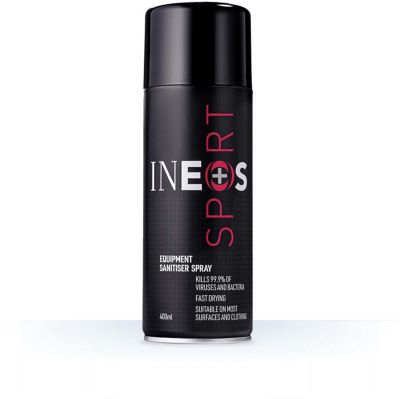 Ineos Sport Equipment Sanitiser Spray 400ml
In Stock
2-3 Days Delivery Time
€5.49
Alcohol-based, fast drying sport equipment sanitiser spray.
Features
Scope Of Application & Usage: Suitable on most surfaces, equipment and clothing for use before and after exercise to prevent the spread of germs. Fast drying formula supports quick application between equipment usage without the need to rinse or wipe.
Application Notes: Shake well, spray evenly at around 15cm from pre-cleaned surface and spray until covered with mist. Allow to air dry. No need to wipe. Always test on a small inconspicuous area before use. Not suitable for polished wood, painted surfaces, leather or acrylic plastics and powered electrical.
Effective: Kills 99.9% of viruses and bacteria.
Formulation: The spray is easy to use on surfaces and equipment. Target a distance of approximately 15 centimetres between nozzle and surface or equipment.
User-friendly: Aerosol based spray to maximise surface coverage.
Fast Drying: For convenient application between equipment usage and no need to rinse or wipe.
Hypoallergenic: Spray on a variety of touchpoints and sports equipment – suitable on most surfaces and clothing.
Additives: No fragrance or colouring agents added.
Manufacturer's Code: HY92100003510