PowerBar Caffeine Boost Ampoule 25ml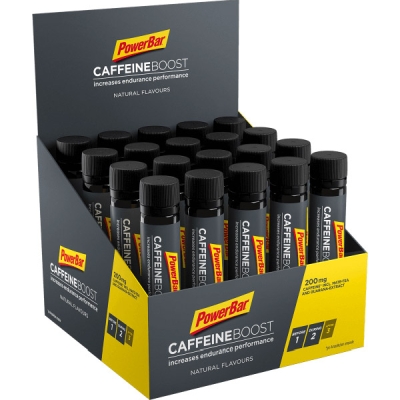 PowerBar Caffeine Boost Ampoule 25ml
In Stock
2-3 Days Delivery Time
$3.19
Many athletes, such as IRONMAN Sebastian Kienle, trust on the benefits of caffeine in their training and competition. Low doses can give you a mental push and with higher doses of 3-4 mg per kilogram body weight you can even increase your endurance performance.
PowerBar Caffeine Boost delivers this necessary active dose of 200mg caffeine (for 70kg body weight) in an easy single serve shot and combines multiple caffeine sources such as mate tea and guarana extracts. With just 0,6g of sugars per shot it is perfect for training sessions where you don't want to consume carbs.
Features
200mg caffeine per 25ml shot
Caffeine contributes to an increase in endurance performance
Low sugar – just 0,6g per shot
Natural flavours
Ingredients
Water, white grape juice (from concentrate), orange juice (from concentrate), mate tea extract (1,5 %), guarana extract (1,5 %), caffeine (0,5%), acid (citric acid), preservative (potassium sorbate), natural flavourings, sweeteners (cyclamates, acesulfame K, sucralose, saccharins).
Nutritional Information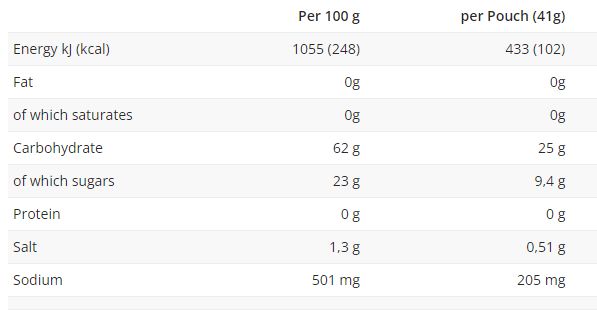 Suggested Use
Consume one ampoule about one hour before sport or during sport. Another ampoule can be consumed three hours later during endurance efforts.
Pro athletes use CAFFEINE BOOST for intense training sessions, competitions and training sessions with low or no carbohydrate intake to assist fat metabolism training.
The effect of caffeine can be different from person to person and might not be suitable for everybody. Therefore we recommend testing which caffeine levels work best for you.
Max. 2 ampoules (400mg caffeine) per day. Per portion: max. 200 mg caffeine.
Caffeine intakes from all sources up to 400mg per day consumed throughout the day should not be exceeded.
This food supplement should not be used as a substitute for a varied diet. A balanced diet and a healthy lifestyle are important. Do not exceed the recommended daily intake. Keep out of reach of young children. Contains caffeine (200 mg/ampoule). Not recommended for children or pregnant women. Not recommended for lactating women.
Manufacturer's Code: 24790000