PowerBar Energize Bar 25x55g Box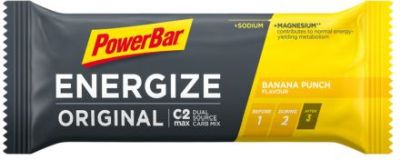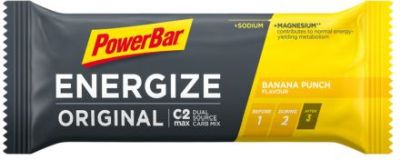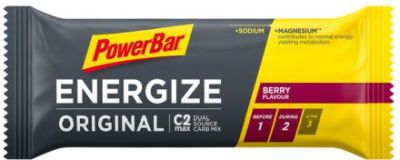 PowerBar Energize Bar 25x55g Box
Banana Punch
$62.55
Add to Cart
shopping_cart
Berry
$62.55
Add to Cart
shopping_cart
For successful intense training or competition, you should top up your energy levels before you start and refuel during exercise with up to 90g carbohydrates per hour depending on the intensity and duration.
That's why PowerBar invented the first carbohydrate bar in the world back in 1986. Several times improved, Energize bars are a great choice before and during sport to deliver a scientifically developed combination of different carbohydrate sources, easy to chew and eat.
Features
Scientifically developed C2MAX Dual Source Carb Mix contain a 2:1 ratio of glucose and fructose sources
Easy to digest
Contains sodium, the main electrolyte lost through sweat
With added Magnesium to support energy metabolism
No colours or preservatives
Ingredients
Fructose-glucose syrup, rice crisps (rice semolina, sugar, wheat gluten, palm fat, malted barley flour, salt), rice flour, milk protein, oat bran (7,6%), maltodextrin, fat reduced cocoa powder (4%), oat flakes (3,9%), ground almonds, cocoa mass (2%), flavouring, sodium citrate, fructose, humectant (glycerol),
Nutritional Information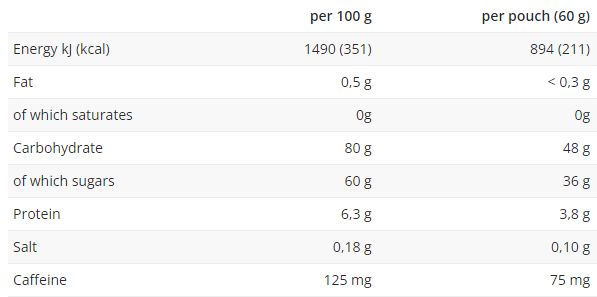 Suggested Use
Consume 1 bar within 60 minutes before sport and / or
Consume up to 90g carbohydrates per hour during sport depending on the intensity and duration. 1 PowerBar ENERGIZE delivers about 38g carbohydrates.
As part of a varied and balanced diet and a healthy lifestyle. 1 – 4 bars per day.
Coconut contains caffeine (60mg/100g). Not suitable for children, pregnant and nursing women and caffeine-sensitive persons. 1 to 2 bars per day. Do not exceed the recommended daily intake.
Manufacturer's Code: PB21014000, PB21012000
Barcodes: 4029679672932, 4029679672420