Maltesers Protein Powder 450g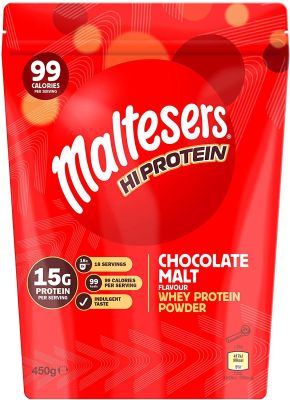 Maltesers Protein Powder 450g
€23.99
Add to Cart
shopping_cart
Just how many protein powders can boast 99 calories and 15g of protein per serving, with absolutely no compromise on taste?
Maltesers Hi-Protein Chocolate Malt Flavour whey protein powder can!
The deliciously light and malt chocolatey taste of MALTESERS is now available for the first time ever as a protein powder, packed into a convenient 450g pouch offering 18 servings.
Ingredients
Whey protein concentrate, (71.5 %) (milk), malt barley extract (14 %), fat-reduced cocoa powder (5 %), whole milk powder, thickeners (guar gum, xanthan gum), flavourings, salt, sweeteners (acesulfame K, sucralose) May contain: soya and eggs. Suitable for vegetarians Please Note: Nutritional facts and ingredients may vary slightly between flavours.
Nutritional Information
Container Size: 450g Serving Size: 1 serve (25g) Amount Per Serving: Protein: 15g Carbohydrates: 5.4g Fat: 1.8g Salt: 0.2g
Manufacturer's Code: 10557L