Fenwicks Concentrated Bike Cleaner 1L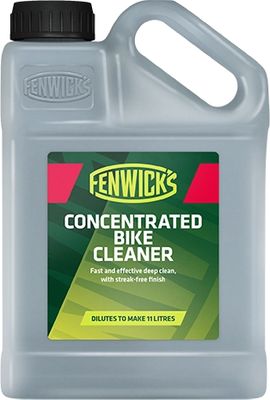 Fenwicks Concentrated Bike Cleaner 1L
In Stock
2-3 Days Delivery Time
€12.99
Fenwicks Concentrated Bike Cleaner lasts for ages and can degrease too! 1 litre makes upto 11 litres of 'Ready to Use' Bike Cleaner, what a bargain.
We love this product for its versatility, it will do virtually any cleaning job.  Use it neat in a chain bath, or dilute it as required for jobs like frame cleaning all the way through to degreasing and disc brake cleaning. It's economical too, as the 5 litre bottle will make 55 litres of Fenwick's Bike Cleaner.
We have also switched to PCR plastic which stands for Post Consumer Resin this is an environmentally sustainable solution for reusing single-use and discarded plastics.
Additional Information
FOR USE AS A BIKE CLEANER:
Step 1 :  Using the fill level mark on a Fenwick's spray bottle, dilute 1 part Concentrated Bike Cleaner to 10 parts water.
Step 2 :  Spray bike thoroughly with the diluted mixture.
Step 3 :  Allow to soak in for a couple of minutes.
Step 4 :  Agitate dirt with brush or sponge.
Step 5 :  Rinse thoroughly with clean water.
DIRECTIONS FOR USE AS A DEGREASER:
Step 1 :  Apply to drivetrain or parts that need degreasing – can be used in any chain bath and allow to soak in for a couple of minutes.
Step 2 :  Agitate with brush or sponge
Step 3 :  Rinse thoroughly with clean water
Manufacturer's Code: FEFS11