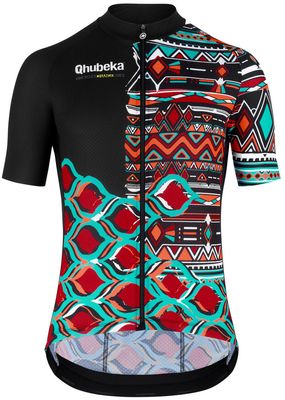 Price:
RRP: €150.00
Save: 23%
Sold-Out
Why don't you browse other
Jerseys
in stock.
To celebrate our Qhubeka partnership for 2022, we created a contest where one winner's artwork would become the graphics of this limited-edition summer jersey. 40% from every jersey sold goes directly to the Qhubeka program, supporting our shared mission of changing lives with bicycles.
According to the artist, Stijn Dossche, "I created the design considering the typical African styles and patterns, adding multiple elements to show that the Qhubeka program reaches out to everyone. One of those patterns is scattered to show that there's still a lot of work to do." The jersey itself is built on the second generation of our MILLE SS platform, set apart by its comfortable raw-cut sleeve construction and streamlined regular fit.
Features
Raglan Cut: Sleeve design free of a traditional shoulder seam, continuing up to the neck for greater range of motion.
Triple Ramp Pockets: Our storage design with three textile-lidded pockets optimally located for ease of access; security and stability guaranteed.
Full-Length Zipper: Temperature regulation courtesy of a lightweight full-length zipper with camlock.
Size Chart