Clif Bar Minis Box (10x28g)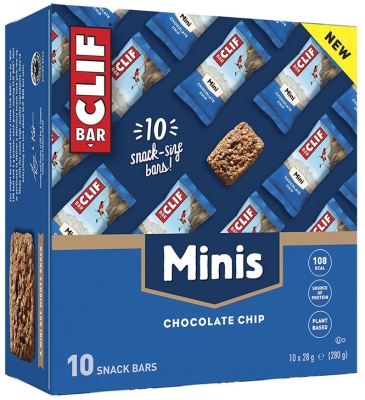 Clif Bar Minis Box (10x28g)
Chocolate Chip
External Warehouse
5 Days Delivery Time
$12.94
Crunchy Peanut Butter
$12.94
Add to Cart
shopping_cart
Whether you're fueling up for a quick run through the fall colors or a long stroll with the family on Halloween, 100-to-110 calorie CLIF BAR® Minis deliver a purposeful blend of protein, fat, and carbs for a snack- size energy bar that'll help you keep the fun going all season long.
Calories per bar: 100 to 110
4 to 5g Protein per bar
Natural Ingredients only
Craveable Taste
What is CLIF® Bar?
CLIF® Bar is a great-tasting energy bar made with a nutritious blend of organic rolled oats and wholesome ingredients for sustained energy. CLIF Bar is the original energy bar made with a nutritious blend of 70% organic ingredients and is thoughtfully crafted and inspired by athletes and foodies in the CLIF Kitchen.
Why eat CLIF Bars?
Athletes and adventurers have high energy demands. CLIF Bars provide energy from multiple carbohydrate sources, and a blend of protein, fat and fiber slows the rate of digestion delivering sustained energy. Eating carbohydrates can help athletes and adventurers push further and stay strong because they supply the body with necessary energy for activities such as hiking, cycling or climbing. CLIF Bar encourages people to Meet their Moment and celebrate, share and inspire moments of outdoor adventure.
When should you eat CLIF Bars?
CLIF Bar provides athletes and adventurers with sustained energy before, during or after activity. When eaten two to three hours before, a CLIF Bar can help store energy in the muscles and prevent hunger during activity. Eating a CLIF Bar during activity can help sustain energy and keep athletes and adventurers satiated. Eating carbohydrate after activity replaces glycogen which needs to be replenished each day.
Why are CLIF Bars made with 70% organic ingredients?
Organic farming and agriculture is good for people and the planet. By using organically grown ingredients, we help keep harmful pesticides and synthetic fertilizers out of our bodies. Organic produces less pollution and helps create nutrient-rich soil and increases biodiversity. Organic foods are a healthy choice to sustain the planet for future generations.
Manufacturer's Code: CL553000, CL553001
Barcodes: 722252153289, 722252153319