BRN Paio Scarpe RX Road Shoes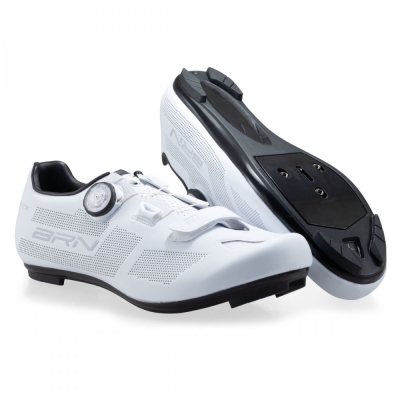 BRN Paio Scarpe RX Road Shoes
Price:
RRP: €149.95
Save: 34%
Stylish, aerodynamic and comfortable, BRN RX shoes present the perfect matching between performance, rigidity and comfort.
RX use a design of the seamless upper, composed by a single piece of breathable microfiber to fit the form of the foot like a glove.
The closing system use a single rotor and a Velcro strap for a safety fit in any point of the foot. A combination of nylon mesh, holes punched and breathable tongue guarantee an excellent ventilation. The RX shoe get the R250 sole to improve the performances and transfer power to the pedal with not compromising weight and comfort.
Features
Atop Rotor Velcro strap for a fast and safety closure
Breathable tongue with holes punched
Mesh insert for the ventilation
R250 o!er length, performances and comfort with no compromising for an enthusiastic cyclist. The newly conception nylon sole o!er a perfect combination of rigidity, weight and comfort. The tongue improve the ventilation. The sole has two anti-slide steps to get a safe walking.
Performing Footbed
Upper: high quality microfiber breathable with strong ventilate nylon mesh
Cleat: Compatible with all 3 bolt system