High5 Recovery Drink 450g Jar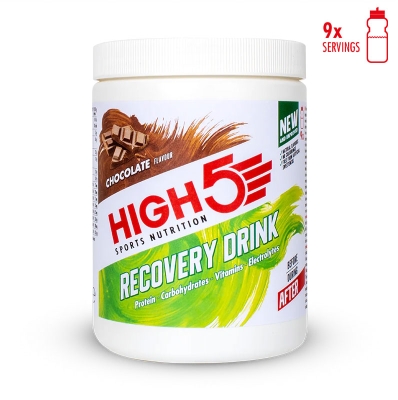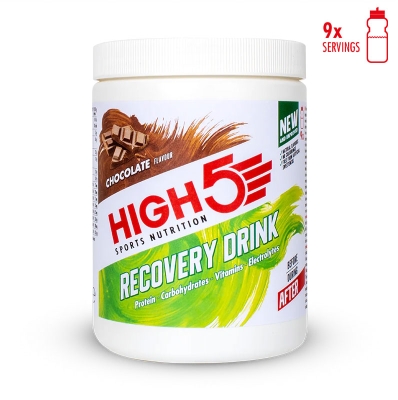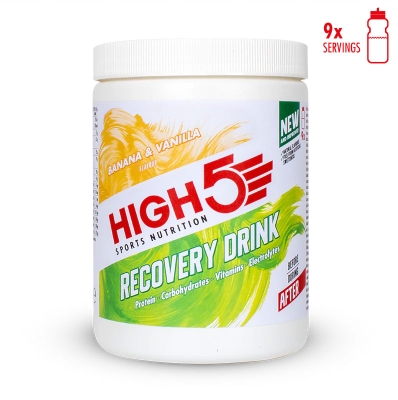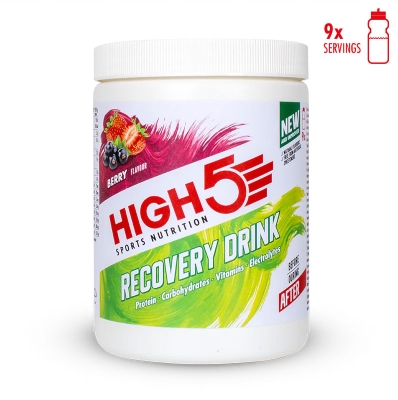 High5 Recovery Drink 450g Jar
Recovery Drink is the convenient, tasty way to repair and replenish your muscles straight after a workout. It contains 20g protein, fast-release carbohydrates, electrolytes, vitamins and minerals in a great-tasting smooth milkshake drink. This is a complete recovery product so you can get back to doing what you love again and again.
Product Details
How long does it take you to recover from your training sessions and events? When you exercise, your muscles become sore and stiff and the depletion of muscle glycogen (energy stored in your muscles) can impair muscle function. This results in fatigue and reduced exercise performance. HIGH5 can help! When you rest, your muscles start to rebuild. HIGH5 Recovery Drink kickstarts this process so you can get back to doing what you love again, quicker.
For a full recovery, it's important to replenish the right combination of macro and micro nutrients immediately after exercise. Recovery Drink is a scientifically formulated as well as great-tasting, complete recovery product. Made using Whey Protein Isolate, it contains 20g of protein to help maintain and grow muscles and 20g of carbs to help muscles recover after exercise. It replenishes the key electrolytes lost through sweat with each easy to mix bottle of Recovery Drink containing 240mg sodium, 90mg Potassium, 57mg Magnesium, 82mg Chloride and 120mg Calcium.
Whilst being kind on the stomach, Recovery Drink also contains Vitamin C to support the immune system as well as zinc, iron, vitamin D and essential B vitamins.
Recovery Drink has been designed to be the convenient, tasty way to repair and replenish your muscles straight after a workout so you can go all over again.
All the ingredients for a full recovery
Repairs, rebuilds, refuels and rehydrates
20g protein to help maintain and grow muscles
Fast-release carbs to help muscles recovery after exercise
Key electrolytes to aid rehydration
Kind on the stomach
Supports the immune system
Smooth & tasty – no lumps!
Mixes quickly and easily with water or milk. No shaker needed.
Free from artificial sweetener
Suitable for vegetarians
9 servings per 450g tub
Recovery Drink is designed to be taken AFTER exercise.
Consume as part of a varied and balanced diet and a healthy lifestyle. Protein contributes to growth and maintenance of mass. Carbohydrates (CHOs) contribute to recovery of normal muscle function after intensive/long-lasting exercise leading to muscle fatigue & depletion of muscle glycogen. Consume 4g per kg/bwt of CHOs from all sources within 4-6 hrs post-exercise to achieve claimed effects. Vitamin C contributes to maintain the normal function of the immune system during and after intense physical exercise. Calcium contributes to the normal function of digestive enzymes.
Dosage & Usage
Mix the powder contents (50g) into 400ml of water or milk and shake well. Use less fluids if you prefer a thicker texture. You can also use milk substitutes such as coconut, soy or oat milk.
Consume one serving of Recovery Drink after exercise. For best results, use within 20 minutes of finishing exercise. You can also have another one or two servings later in the day or before you go to bed.
Scoop included with Jar.
Key ingredients
Whey Protein Isolate
Carbohydrates
Electrolytes (Sodium, Magnesium, Potassium, Calcium, Chloride)
Vitamins (Vitamin B6, B12, C, D)
Minerals (Zinc, Iron)
Manufacturer's Code: 16-135, 16-137, 16-136
Barcodes: 5027492006407, 5027492006438, 5027492006421