Orca Vitalis TRN Openwater Womens Wetsuit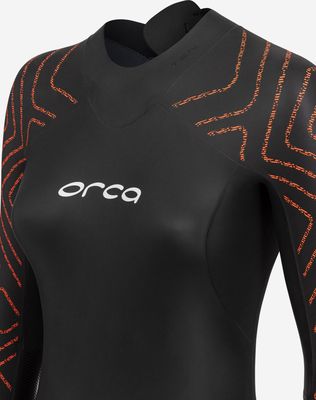 Orca Vitalis TRN Openwater Womens Wetsuit
Black/Orange - XS
In Stock
2-3 Days Delivery Time
€255.00
Black/Orange - S
€255.00
Add to Cart
shopping_cart
Black/Orange - M
In Stock
2-3 Days Delivery Time
€255.00
Black/Orange - MW
€255.00
Add to Cart
shopping_cart
Black/Orange - L
€255.00
Add to Cart
shopping_cart
Black/Orange - LW
€255.00
Add to Cart
shopping_cart
Black/Orange - XL
In Stock
2-3 Days Delivery Time
€255.00
The Vitalis TRN Wetsuit is the evolution of Openwater Core TRN.
The Openwater Vitalis TRN is the perfect wetsuit for swimmers who are just starting out in open water or who need a suit for daily, triathlon-oriented training. The high flexibility in the shoulders makes your first workouts in open water very comfortable, while its buoyancy will keep you feeling secure.
Features
Flexibility: The highly elastic materials used in this wetsuit will provide you with more flexibility in all phases of the swim stroke, so you can enjoy total freedom of movement during your open water swimming sessions.
Thermal Comfort: The 3 mm-thick neoprene in the torso and legs will provide you with the necessary thermal comfort so that you can extend your adventures at sea without worrying about low temperatures.
Neutral Buoyancy: The 3 mm panels will allow you to maintain a neutral buoyancy, improving your position and allowing you to move through the water quickly.
Additional Information
Neoprene can be damaged by excess salt or other chemicals such as chlorine if used in swimming pools. We recommend washing your wetsuit with plenty of water after each use. A small amount of neutral pH soap can be used and then rinsed out afterwards. Once clean, make sure prevent it from holding onto too much moisture. Air dry it outside or in a ventilated indoor space, somewhere without direct exposure to sunlight as this can damage the materials.
Storing your wetsuit properly keeps the materials and seams from creasing and being stretched for long periods of time. It also prevents the material from wrinkling, which can affect both the wetsuit's durability and appearance.
The best way to store a wetsuit is to hang it draped over a hanger from its waist, so that the most delicate areas such as the shoulders and arms do not have any kind of tension on them.
For wetsuits with very flexible shoulders (Apex Flex or Apex Flow), it is important not to place them on a hanger from the shoulder area, as this will degrade the elasticity over time. For the rest of the models, a wide hanger can be used, as long as the wetsuit is not strained in the shoulder or neck area.
Size Chart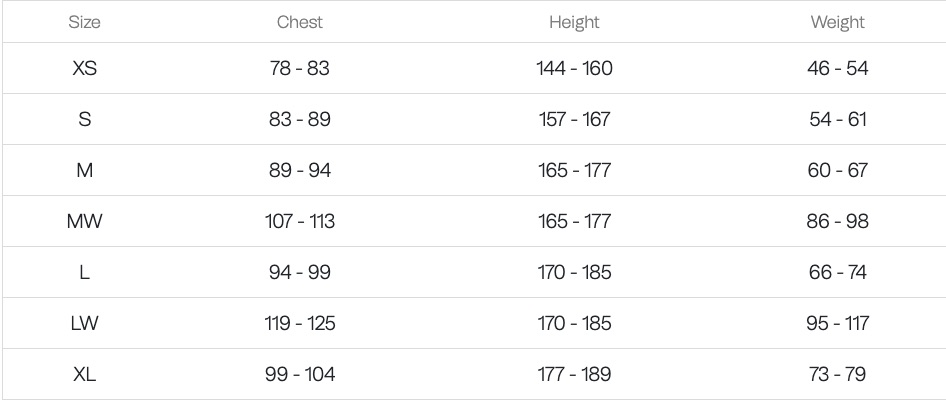 Manufacturer's Code: NN684601, NN684801, NN685101, NN685401, NN685001, NN685301, NN685701
Barcodes: 8434446407666, 8434446407673, 8434446407697, 8434446407789, 8434446407680, 8434446407772, 8434446407796