Price:
RRP: $329.25
Save: 20%
Black - XL
In Stock
Despatch up to 14 Days
$263.40
What is it?
The ASSOS female-specific longlegged bibtights for cold winter riding conditions, featuring ultra-low volume and four-way-stretch airBlock membrane fabric inserts where you need them. LL.pompaDour is equipped with the ASSOS Lady s5 elastic insert, designed to fit perfectly the female form.
How to use it
First, choose an upper-body ASSOS next-to-skin body insulator. Then wear the LL.pompaDour directly on your lower body and finish up with the brand new insulator jacket iJ.pompaDour on your upper body. "Assosorize" with the proper ASSOS socks, gloves and winterCap. Done!
Technological engineering
The technical platform comes from the LL.uma that it replaces, but the pattern has been revised, inspired by the legendary LL.716, featuring twinDeck-foiling technology. This means not a heavy and rigid membrane textile sandwich over your thighs and knees; rather, a double-layer construction: ASSOS RXQ fleecy type textile next to skin, providing multistretch total comfort insulation, then a layer of the ASSOS custommade Stratagon ultralight membrane that protects you from cold, wind and light rain. This ASSOS invention needs very little explanation. Wear it, and feel a near-perfect total freedom of knee movement.
The construction
The LL.pompaDour is built out of 4 panels, using 6 different textiles and 10 components, each carefully engineered, defined and applied. ABC-M: Another feature that makes the ASSOS Lady winter tights unique is its monobib construction ABC-M. Actually, it's an ASSOS invention first introduced on the Lady T.FI 13 shorts, the first adjustable, female-specific monobib construction. ABC provides a choice of three different closing positions:tight for racing, looser for comfort. Over the years, the design of the buckle has been improved. It features a carbon-fiber inner skeleton, so it is superlight and very strong. Another advantage of this exotic material versus a metal clip is that it feels warm, instead of cold and uncomfortable. Keeping in mind a low-volume design, we decided to manufacture the system using ultrasonic welding technology when attaching the fasteners.
Campionissimo aepd
Tailored to fit the female body in the cycling position. Created to "click on" to your body in the tuck position. Follows your movements without restriction or pressure points. It is absolutely essential that you choose the correct size - yours! The LL.pompaDour can function properly only when it adheres snugly to your body in the tuck position. When you stand upright, the monobib pulls and feels all wrong - but this is correct! In case of doubt, downsize.
The key fabric
The main textiles used are both brand new developments of the ASSOS Textile Lab. Main construction is made of RXplus. A new and beefier development of the former Roubaix fabric. Hence, increased insulation and abrasion resistance, but still providing that legendary next-to-skin silky touch comfort feeling. The second main fabric used to stop wind and cold from penetrating to sensitive body parts is the brand new, ASSOS-developed, not commercially available stratagonUltra. Really amazing! Feel how ultrathin, light and resistant it is.
Key features
Campionissimo Lady AEPD racingFit. Clicks onto your body when in the tuck position. Anatomically correct ergonomic fit. Total freedom of movement. So, no excess material, which allows for both effective body temperature control and total comfort.
Lady_s5 elastic interface insert.
RXplus: a beefier, stronger version of the legendary Roubaix fabric.
Lady monoBib construction provides a lighter, more comfortable fit for women when on the bike.
ABC-M patented bib closure mechanism.
stratagonUltra pattern inserts over thighs and knees to provide ultimate airBlock properties where you need it most.
Conclusion
For women who continue to ride throughout the winter. Protecting your health and providing total comfort when riding in cold conditions are crucial. Don't compromise. It's not worth it. LL.pompaDour is the right choice. And it's a system: complement these high performance tights with the brand new iJ.pompaDour Lady jacket and you will look and feel stunning. Engineered and developed by ASSOS of Switzerland at the Design Center San Pietro di Stabio, Ticino.
Composition 63% Polyamide, 14% Polyester, 5% Polyurethane, 18% Elastane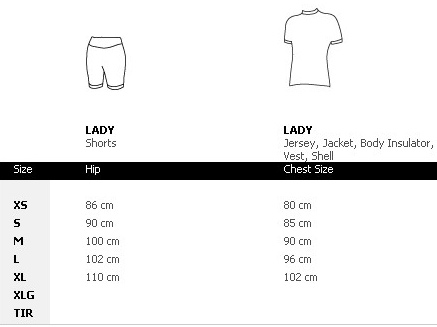 Customers who bought this item also bought