Orca Predator Womens Fullsleeve Triathlon Wetsuit
Orca Predator Womens Fullsleeve Triathlon Wetsuit
Price:
RRP: $972.38
Save: $243.40
XS
In Stock
2-3 Days Delivery Time
$728.98
For ultimate swim assistance, the Predator wetsuit will keep you streamlined even when you tire whilst also providing ultimate buoyancy, flexibility and feel for the water. The material used in the Core Lateral Stabilizer greatly improves body position, profile and therefore speed. While the industry-first 0.88 Free arms provide complete un-restriction in your stroke.
Features
BUOYANCY
The never before seen Exolift has no lining and therefore doesn't absorb water. While other wetsuits get heavier as the lining gets soaked, Exolift keeps it's buoyancy unchanged and eliminates excess knee movement, so when combined with the Core Lateral Stabilizer you have the ultimate weapon for long distance swimming.
FLEXIBILITY
The all new 0.88 Free arms and upper body on the Predator are less than 1mm thick, making it feel like you're wearing a suit with total un-restriction in your stroke. A Titanium coating provides thermal protection while the extreme thinness of the sleeve provides unrivalled forearm water feedback as you feel the water with each stroke.
SPEED
Nano-ice coated Yamamoto 39 and 40cell neoprene is used in special HydroLite panels in the arms and legs of the suit combined with a stretchy lining that absorbs less water to improve buoyancy and is super sleek, making the Predator even faster to remove in transition.
COMFORT
Super thin 1.5mm SCS coated neoprene collar provides the ultimate in comfort where you need it most.
STREAMLINED
Our latest innovation, the Core Lateral Stabiliizer (CLS), uses core panels to stabilize the body. The wetsuit feels stiff but once in the water it feels like you're swimming on a surfboard-greatly improving your body postion and so also your speed.
Technologies
YAMAMOTO
The Yamamoto Corporation is the world's main supplier of high performance neoprene. Its seal represents quality, technology and innovation.
0.88 FREE
0.88 Free is a revolutionary material developed by Orca. The five layer construction combined with a patented heat reflective Titanium coating is the secret behind the extraordinarily high insulation effect in such a lightweight material. This results in extreme stretch and flexibility, high buoyancy and insulation as well as low drag in the water. 0.88 Free really is the ultimate weapon for speed in the water.
40 CELL
Yamamoto's 40cell neoprene is the penultimate for flexibility, suppleness, fit and comfort. Second only to 44cell by the narrowest of margins and located in key high stretch areas on the Predator, Alpha and 3.8 suits, these panels contribute to providing a wetsuit swimming experience of the highest level.
CLS
The Core Lateral Stabilizer (CLS) system is a revolutionary new feature that provides body alignment assistance. The effect of 5mm Exo-Cell side panels alongside the 4mm Exo-Lift front panel is that of a floation device - stabilizing the core by preventing lateral movement without restricting rolling. The result is an effortlessly streamlined body position, allowing less fatigue and so a faster time in the water.
EXO-LIFT
The Exo-Lift front panel on the Predator is a revolutionary 4mm multi layer material. Consisting of an outer layer made of 4mm Yamamoto 39cell Neoprene coated with the super fast SCS nano ICE combined with a completely waterproof lining. This means the Exo-Lift absorbs far less water than other materials and consequently maintains buoyancy over a longer distance. The Exo-Lift has been carefully placed on this specific panel to assist during open water swimming-helping the body to remain streamline.
HYDROLITE
HydroLite panels make transition that extra bit faster using the super fast SCS (Nano ICE in the Predator) which combined with a special lining which absorbs less water to improve buoyancy while also being extremely sleek -making the suit fast to remove in transition saving you precious seconds.
NANO ICE
Super Composite Skin (SCS) has become the benchmark for coating the smoothskin neoprene used in triathlon wetsuits, to reduce friction and increase speed through the water. Orca uses Yamamoto Corporation's latest Nano SCS for an even lower drag co-efficient, ensuring the fastest swim possible. The underwater co-efficient of dynamic friction of the Nano SCS is 0.026 in comparison to 4.0 of regular neoprene. Less friction = more speed! Nano ICE is the latest upgrade to Nano SCS and is an Orca ex
INFINITY SKIN BAMBOO
It's what's on the inside that counts and Orca's unique InfinitySkn Bamboo lining plays an integral part in the unbelievable flexibility of our top wetsuit the Predator. Constructed from a high stretch nylon, InfinitySkn Bamboo is strategically placed where ultimate stretch is required and allows the wetsuit to move dynamically through your swim stroke. The addition of Bamboo fibres embedded in the nylon allows the Predator to be naturally anti-odour, anti-bacterial and eco-friendly.
Total Swimmer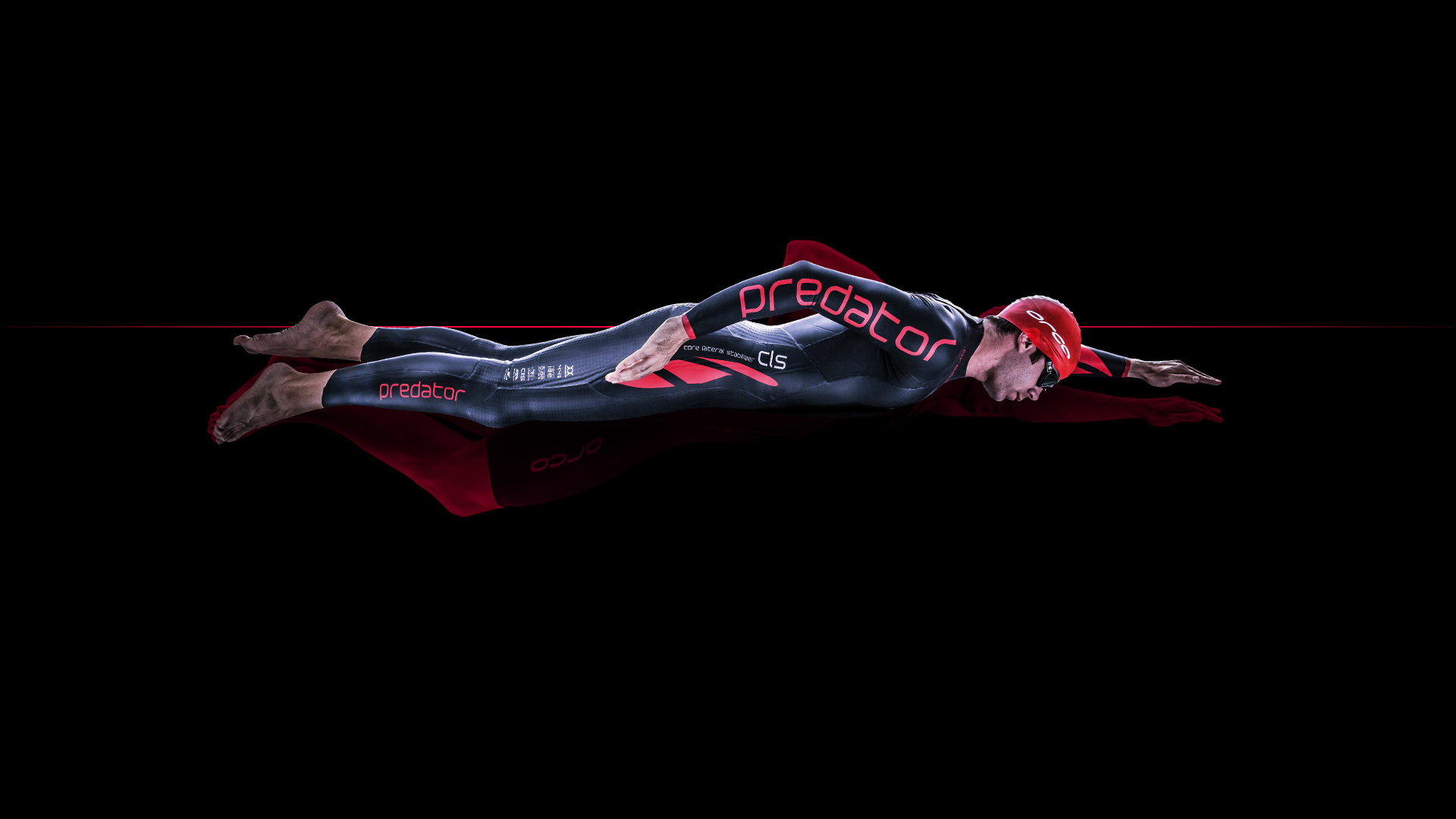 Total swimmers make only small mistakes and this is often found in their kicking technique. A little extra buoyancy helps to solve this by raising the legs for a more effective horizontal position. Since these swimmers have no shortcomings in the upper body area they benefit most from flexibility here so their stroke remains unaltered.
For this swimmer Orca offers an intermediate solution between the Progressive and Natural Swimmer models called Total Swimmer.
It's a performance-boosting combination of maximum flexibility in the upper body area, identical to that included in Natural Swimming, and maximum floatability in the lower trunk, just like that used in Progressive. Total swimmers need buoyancy combined with flexibility so each element acts on the specific area where it is needed.
Got doubts which kind of swimmer you are? Visit Orca's swim scale site
Size Chart

How to put a wetsuit on
Manufacturer's Code: DVNE4601
Customers who bought this item also bought