Giro Foray Mips Road Helmet
Giro Foray Mips Road Helmet
Black/Red - S
In Stock
2-3 Days Delivery Time
$116.92
The Foray™ is now available with MIPS, the Multi-Directional Impact Protection System
SLEEK AND STYLISH
The Foray™ drafts off the bold design language of our premium Synthe™ helmet, and offers many of our key features including durable In-Mold Construction and the Roc Loc®5 fit system with two-way fit adjustment. The slim design is very light, offers great ventilation and is available in three Super Fit™ sizes so that you can get a helmet that looks, fits and feels like it was made for you. Foray™ MIPS options are equipped with the Multi-Directional Impact Protection System. We believe that MIPS can provide more protection in certain impacts, and this added technology does not compromise fit, ventilation or style..
Specifications
Features: Streamlined Design, Plush interior, MIPS equipped
Construction: In-mold polycarbonate shell with EPS Liner
Fit System: Roc Loc 5
Ventilation: 21 Vents
Features
MIPS
All Giro helmets are designed to reduce as much energy as possible while meeting and exceeding stringent safety standards. The goal of Giro's MIPS-equipped helmets is to reduce rotational forces. Giro believes that helmets equipped with this technology can reduce the amount of rotational force that may be transferred to rider's brain in certain impacts. Learn more about MIPS in the video above.
ROC LOC® 5 Fit System
The industry benchmark in comfort, stability, adjustability and weight savings. In addition to enhancing the fit and comfort of helmets, Roc Loc® 5 allows you to easily custom tune the fit tension and the fore-aft tilt of the helmet in seconds using a single hand. And it's lighter than comparable systems too, making it the ultimate in skull-hugging luxury.
IN-MOLD
In-Mold Construction fuses a tough polycarbonate outer shell with the helmet's impact-absorbing foam liner. The fusion process allows for better ventilation systems, making in-mold helmets lighter and cooler than traditional helmets.
SUPER FIT™ ENGINEERING
Our proprietary Super Fit™ sizing system is based on "human scale factors" data and over 25 years of handcrafting helmets. By creating helmet molds in up to 4 adult sizes to match the human body's form, our Super Fit™ sizes comfortably and securely fit riders, and feel like they are custom made just for you.
WIND TUNNEL™ VENTILATION
Giro helmets are developed utilizing our proprietary Wind Tunnel™ ventilation system. This elaborate design combines active vents in the helmet's shell with exhaust channels inside the helmet that thrust fresh, cool air over and around the rider's head while forcing heat and stale air out. It's the most effective cooling system available, and a difference you can feel every time you ride.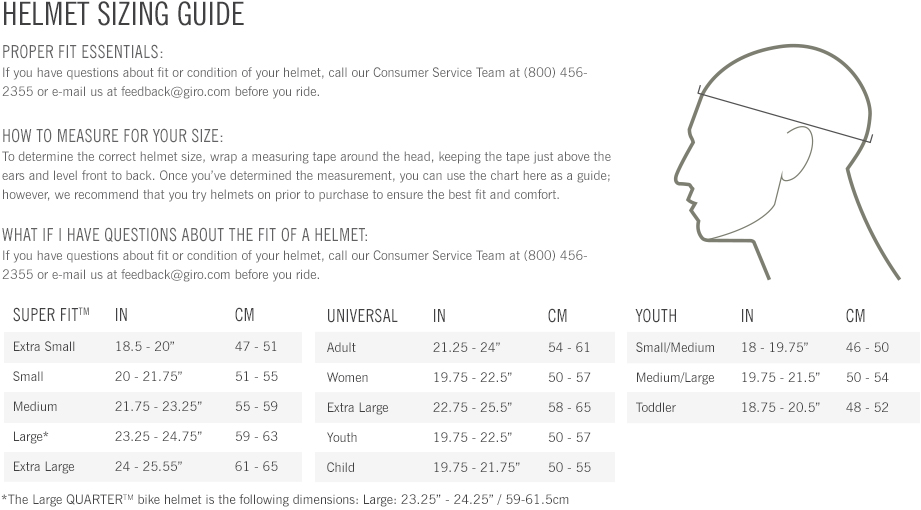 Manufacturer's Code: GIHFORM68L, GIHFORM9S, GIHFORM76M, GIHFORM76L, GIHFORM9M, GIHFORM9L, GIHFORMB8L, GIHFORMG1L, GIHFORM68S, GIHFORM5BS6, GIHFORMB8M