Shimano SW M8050 L XT Di2 E tube Left Hand Shift Switch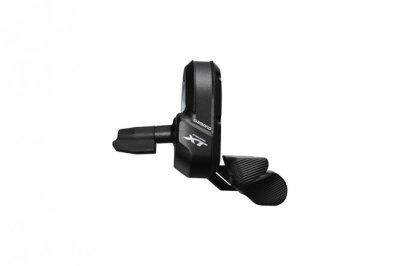 Shimano SW M8050 L XT Di2 E tube Left Hand Shift Switch

The trail to triumph is one big adventure
Take your rides to the next level with Shimano's Deore XT Di2 groupset. Our mission is to combine the best of electronic gearing with proven components in a race-proven package. Gear up for even greater adventures with incredible fingertip control. Di2 is a technology you simply won't need to worry about. Its on-demand gear selection, precision mechanics and programmable shifting means you can set it up once the way you like it and get on with the adventure. This is the way technology should be.
Effortless control and intelligent integration
The new Firebolt Shifter gives you effortless, short-stroke shifting with a wide lever for perfect feel. The Firebolt is designed for use with our unique Synchroshift technology for uncomplicated gear selection use just one lever to shift up and down and let the system choose the next most efficient gear using both the front and the rear derailleurs or only the rear.
With Di2 technology shifting is easy and precise - just a light touch, as soft as a mouse click, is sufficient for the front or rear derailleur to instantaneously select the correct gear
The removal of traditional mechanical cables in favour of electrical wires eliminates poor shifting caused by contaminates, corrosion and stretching, and also provides effortless gear shifts
Shimano's FIREBOLT customizable shift button placement has been designed entirely by human ergonomics, this means the shift buttons now sit exactly where your thumbs naturally sit
Shifting can now happen as quickly and effortlessly as possible thanks to the super light Short-stroke lever, giving you more time to adjust to the trail ahead
Shifter is completely customizable, using E-tube software you can programme the shifting to your preference
Synchro Shift compatible meaning both front and rear shifting can be achieved through the use of just a single shifter
Left hand band clamp mount type
For use with E-tube electric cables
Manufacturer's Code: SWM8050L