Maxxis Shorty 26 x 2.40 3C Wire DH Tyre
Maxxis Shorty 26 x 2.40 3C Wire DH Tyre
$105.66
Add to Cart

A mid-spike for loose or slightly muddy conditions; more versatile than the WetScream.
Features
Large, aggressive lugs
Dual-ply casing with butyl insert
Today's World Cup downhill tracks are steep, technical monsters with ever-changing conditions. Our pros needed a mid-spike tire that could handle dry, loose, blown-out corners as well as a bit of mud. The Shorty is that tire. A high-volume, dual-ply downhill casing makes the Shorty a more versatile option than a dedicated mud spike like our Wet Scream. Large, tall and slightly staggered side knobs penetrate loose soil to provide predictable, stable cornering at warp speeds. The alternating pattern of the center tread features widely-spaced knobs to clear debris, and their square shape offers plenty of braking bite. For downhill mountain biking in gnarly, mixed conditions, the Shorty can't be beat!
Specification
Size: 26X2.40
TPI: 60
Bead: WIRE
Weight(g): 1215g
Compound: 3C MAXX GRIP
Max PSI: 65
Technology: 3C
Compound Technology
3C TRIPLE COMPOUND MOUNTAIN
Maxxis 3C Triple Compound mountain technology uses a harder, longer lasting base layer and two progressively softer top layers in order to optimize traction and stability. Maxxis offers three different configurations of our 3C Triple Compound mountain technology: Maxx Speed, Maxx Terra and Maxx Grip.
MAXX GRIP
A new name for the downhill 3C compound configuration that you have come to know and trust. 3C Maxx Grip offers the ultimate in grip and slow rebound properties for unparalleled traction in downhill applications.
Customers who bought this item also bought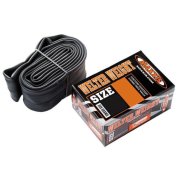 In Stock
Available to Order