Look Keo 2 Max Blade Road Pedals
Look Keo 2 Max Blade Road Pedals
Now
$98.04
+ Free Postage to Ireland and UK
You save $50.76 = 34%
ONLINE ONLY
This product is available in our online store only. Not available on shop floor. However you can buy it online and collect in-store.
The small detail that makes all the difference
Blade technology applied to the Keo 2 Max: new clip-in/clip-out sensations, aerodynamic profile.
Large and wide platform for excellent pedalling stability and good power transfer.
New spindle system providing reduced platform height (14 mm)
2 clip-out tension settings: 8 / 12
Technical specification:
USE: ROAD - FROM CYCLOSPORTTO COMPETITION
BODY: COMPOSITE
SPINDLE: CHROMOLY STEEL
THREAD: 9/16 X 20 MM
BEARINGS: 2 BALL BEARINGS, 1 NEEDLE BEARING
SPINDLE/SOLE HEIGHT: 14 MM
PEDAL / CRANK DISTANCE: 53 MM
CLEATS: GREY KEO GRIP CLEATS
ANGULAR MOVEMENT: 0?, 4.5? OR 9? DEPENDING ON CLEAT TYPE (BLACK, GREY OR RED)
PEDAL WEIGHT: 120 G. (308 G PER PAIR WITH CLEATS AND SCREWS)
COLOURS: BLACK - WHITE
ACCESSORIES: ONE PAIR OF GREY KEO GRIP CLEATS FASTENERS (6 SCREWS 5 X 11 MM AND 6 WASHERS)
WARRANTY: 2 YEARS
Technology:
COMPOSITE MATERIAL BLADE: The Keo 2 Max Blade is made of injection-moulded composite fibreglass material providing cleaner engagement than a Keo 2 Max pedal but less radical than a Keo Blade 2. Two blade versions are offered for 2 different tension levels: version 8 and version 12. Integrating the blade into the pedal body gives the Keo 2 Max Blade and aerodynamic profile for optimal air flow.
VERY LARGE PEDAL PLATFORM AREA: With a 400 mm2 stainless steel platform, the Keo 2 Max Blade is positioned between the Keo 2 Max and the Keo Blade 2 providing excellent stability and very good pedalling efficiency. This efficiency is also made possible by permanent cleat-stop contact: the shape of the stops at the rear of the pedal has been designed to fit the shape of the rear of the Keo cleats.
TOP QUALITY SPINDLE SYSTEM: The spindle system used on the Keo 2 Max Blade is the same as that used on the Keo Blade 2: 2 ball bearings and one needle bearing thus ensuring high product reliability, besides passing tests in excess of standards* that LOOK commits to having its products subjected to 2 million cycles at 100 rpm with a 90 kg load on the centre of the pedal and eccentric rotation (the standard requiring 100,000 centred rotation cycles with a 65 kg load). This is the equivalent of a 1,700 watt sprint by Mark Cavendish at 100 rpm for 333 hours!
Q-FACTOR ADJUSTMENT: The new LOOK spindle's 14 mm thread length enables Q-Factor to be adjusted by 2 mm using a special spacer available as a spare part.This increases from 53 to 55 mm.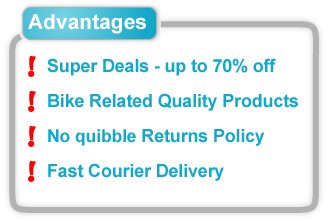 What is CycleSuperDeal?
Every week we offer our customers one Bike-Related Top Brand Product at a massive reduced price. Often below cost.


This offer is available for limited time period
(All Wednesday: from 00:01 till midnight Irish Time)
or as long as stock lasts. So Better HURRY!


This is online offer only. This offer is not available in store


Don't miss out. Sign Up now for our CycleSuperDeal Newsletter


See our Previous Deals to know what you can expect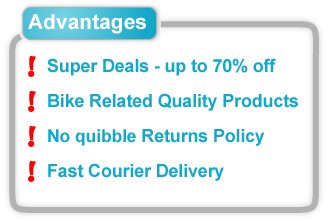 Terms & Conditions
Product Information:
No responsibility is accepted whatsoever for supplying full and accurate product specifications – please consult with the appropriate manufacturer's website for these.
Ordering:
There is a limit of 4 items per order, due to the nature of the offer and to ensure everyone has a fair chance to avail of it.
Delivery Cost:
Free Shipping to Ireland & UK
You cay collect your order in-store, where it will be held for you from the following day (usually Thursday).
Delivery on the Cycle SuperDeal offer is available only in Ireland & UK.
Payment:
The Realex Payment Gateway is our chosen payment services provider, which guarantees industry-leading security for your transaction.
Shipping:
Orders are shipped using GLS Courier services.
Please allow up to 7 working days for delivery of the Cycle SuperDeal items.
Please ensure you are familiar with the applicable delivery charge listed above.
Products in the Cycle SuperDeal are listed separately to those of the Cycle SuperStore website and the deal is sold as a separate entity and as such cannot be combined with the shopping basket functionality or other products of the Cycle SuperStore website.
All deliveries require signature upon receipt and exact delivery times cannot be guaranteed.
Collection in the shop:
It is possible to collect your Cycle SuperDeal purchase in our store.
Please note is not possible at any time to purchase or request to purchase the Cycle SuperDeal items in-store as it is exclusively a web-based offer.
Items will only be available for collection on the day following the offer (usually Thursday).
Items will be strictly held for 7 days only and failure to collect your item during this will result in the item being returned to stock.
In this eventuality, a 25% restocking charge will apply.
Sold Out:
As there are limited quantities of Cycle SuperDeal products for purchase, it can be that on occasion the product becomes sold out before everyone who wishes to has made a purchase. Due to these limited quantities, once the item has sold out, the Cycle SuperDeal is concluded and we do not re-stock or re-order more product to satisfy outstanding demand.
Returns Policy:
Our Returns Policy for the Cycle SuperDeal matches exactly that of the overall Cycle SuperStore Returns Policy and is a strictly No-Hassle policy.
Faulty Goods:
Please consult the Cycle SuperStore Returns Policy for full details of the procedure in the event of Faulty Goods.
Madison Prime Waterproof Jacket Mens & Womens
You save $43.44 = 44%
Bicycle Line John Socks 5x Pack
You save $31.03 = 50%
Karcher OC3 Mobile Outdoor Cleaner
You save $55.22 = 26%
Maxxis Re-Fuse 700c Folding Road Tyres & Tubes 2 Pack
You save $49.64 = 40%
Pearl Izumi Cyclone Gel Winter Glove Mens & Womens
You save $24.82 = 41%
Madison Sportive Shield Softshell Padded Mens & Womens Bib Tights
You save $64.53 = 46%
SealSkinz Mid Knee MTB Socks
You save $17.99 = 30%
Abus GameChanger Road Helmet 2017
You save $106.71 = 38%
Maxxis High Roller II 27.5 x 2.30 EXO Tubeless Ready MTB Tyres Set
You save $59.57 = 55%
Ogio Bandit Laptop Backpack
You save $45.48 = 36%
Madison DTE Hybrid Jacket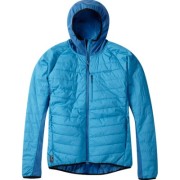 You save $53.35 = 38%
Shimano 105 5800 11s Groupset
You save $434.35 = 47%