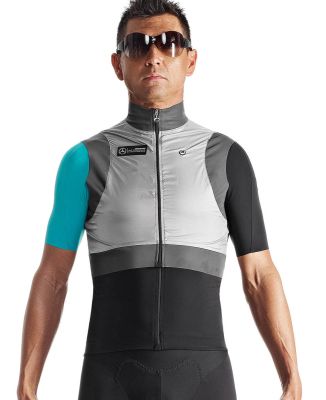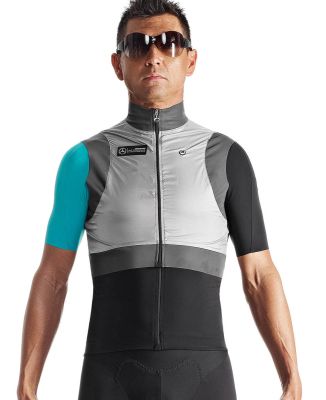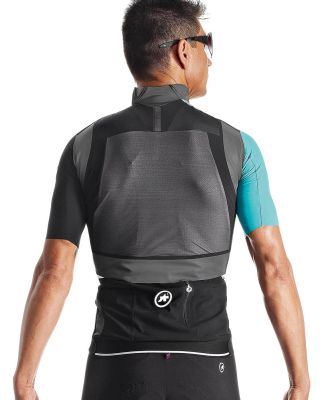 Price:
RRP: $151.28
Save: 30%
Black/White/Teal - S
In Stock
2-3 Days Delivery Time
$105.90
WHAT IS IT?
Engineered as part of our collaboration with the MERCEDES AMG PETRONAS F1 team, this micro-volume chest protector is the essence of performance without the superfluous. Lightweight and super packable, this vest gives you not only vital emergency chest protection, but also the added security of increased visibility whilst on the roads. Coming in a new MERCEDES AMG PETRONAS F1 design, it perfectly captures our collaboration and commitment.
ALS CLIMARANGE
Year round
HOW TO USE IT
As an outer shell it should be used over any ASSOS jersey, giving you the minimum chest protection, rendering it ideally suited to a racer or during those cool moments on your ride.
ALS TIPS
As a year-round product, this lightweight and highly packable vest is suitable for any ride. From hot summer descents to dark winter days, through to cool mornings or virtually any ride for the safety conscious, this really is one of our most flexible pieces of clothing.
TECHNOLOGICAL ENGINEERING
Designed to embody only the essentials, this anatomically-cut vest does away with anything not 100% needed. Cut slightly wider at the bottom when compared to the original emergencyVest, we have continued to refine the performance of this item. Coming in a new colour with a new water-repellent treatment, this FF_1emergencyWindvest_evo7 has a far lighter feel. Channelling the MERCEDES AMG PETRONAS design, we have used our new reflective material with a matt finish.
THE CONSTRUCTION
Created to be the absolute essential, this vest is super lightweight and highly packable.
Large reflective strips for increased visibility use our new matt finish material, which is tuned towards reflecting lights rather than the sun.
New shoulder design to reduce bulk and improve aerodynamics even further.
Wider cut at the bottom to improve fit.
New FF_1 grey colour way and our new water-repellent treatment make this vest feel even lighter.
KEY FEATURES
OFFICIAL LICENSED PRODUCT – MERCEDES AMG PETRONAS F1
Super lightweight and packable
The definition of necessity, the culmination of reduction without compromising the essentials
MERCEDES AMG PETRONAS aesthetics
CONCLUSION
Stripping a wind vest back to the bare essentials, this item is the embodiment of a top formula racing mentality where the superfluous can be discarded. The ultimate accessory for the racer wanting the minimum of protection or an all-year rider wanting to be seen on those dark roads, this is a must for any ASSOS wardrobe.
Manufacturer's Code: 13.34.328.11.S