CEP Wingtech Womens Run Shirt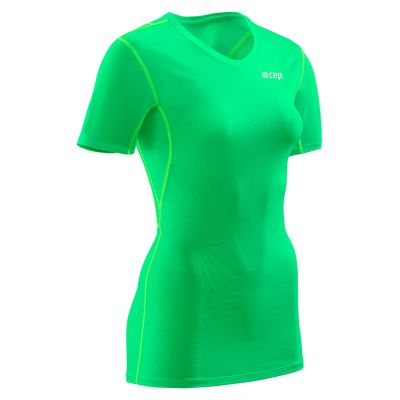 CEP Wingtech Womens Run Shirt
Price:
RRP: $63.63
Save: 30%
Award winning weighted shoulder design enhances posture for more effective training and enhanced performance.
Features
ISPO Innovation Award Winner for 'Smart Wingstripes,' that provide senorimotoric stimulation that increases body efficiency during activity due to ergonomic posture
Improves spinal alignment to enhance breathing during activity
Quick drying fabric provides heat and moisture management
Reduces injury and trains the body to hold an overall improved posture
Material
88% Polyester
12% Spandex
4 CHALLENGES

Performance You Can Feel
From the moment you put them on, CEP's proprietary compression profile gets to work on optimizing blood in the lower leg.

Perfect Fit
CEP's mastery of compression knitting technology yields socks that are engineered to anatomic perfection. Right and Left Specific construction and Gender specific measurements create a fit that is unmatched in performance socks.

Proven Performance Technology
CEP's unique mix of Consistent and Graduated Compression Technologies optimizes arterial and venous blood flow in the athlete. The result is increased endurance, sustained power and reduced chance for injury.

Always Comfortable/All Conditions
Wicking and drying performance is elevated by CEP's compression fit. Moisture management and Odor control technologies keep your feet dry, cool and comfortable.
Size Chart

Manufacturer's Code: W6FDG51, W6FDG52, W6FDG53, W6FDG54
Barcodes: 4049772561841, 4049772561858, 4049772561865, 4049772561872