Look Keo Blade Carbon Ti Road Pedals 2018
Look Keo Blade Carbon Ti Road Pedals 2018
Out of Stock
Not available at the moment
$337.41
POWER TRANSFER AND AERODYNAMICS
Features
Designed to win, the new KEO BLADE CARBON improves the experience associated with the use of blade technology in a clipless pedal. This new version is the result of experience gained during years of development in the heart of our manufacturing facility and to continual improvements made thanks to daily input from the greatest of champions.
Lightweight, aerodynamic, powerful, the new KEO BLADE CARBON has all the assets to allow you to improve and optimize your performance until victory is yours. It is for these reasons that KEO BLADE CARBON is the unanimous choice of many champions who have made it a weapon of choice in the conquest of their greatest achievements.
The KEO BLADE CARBON has the best weight / power ratio in its class.
Its new design completely integrates the blade for unrivaled aerodynamics. Equipped with a carbon body and blade, the Blade Carbon is available in a Ti version (titanium spindle) that weighs a mere 95g per pedal, or in a CrMo version (chromoly spindle) for a weight of 110g per pedal. It is available in three tension release levels: 12,16 and 20.
Specifications
USE: Race segment
BODY: Carbon
SPINDLE: Titanium
THREADING: 9/16 X 20 mm
BEARINGS: 1 roller bearing, 1 needle bearing
STACK HEIGHT: 14.8 mm
DISTANCE PEDAL SPINDLE / CRANKARM: 53 mm
PLATFORM WIDTH: 67 mm
PLATFORM SURFACE AREA: 700 mm?
TENSION: Pedals come installed with "16" carbon blades additional "12" carbon blades ("20" carbon blades sold separately)
CLEATS: K?o Cleats-Gray
FLOAT: 0 ?, 4.5 ? or 9 ? according to the cleat color (Black, Grey, Red)
PEDAL WEIGHT: 95g (248g per pair with cleats and screws)
COLORS: Black
ACCESSORIES: 2 sets of blades 1 pair of K?o Cleats-Gray screws
WARRANTY: 2 years
Technologies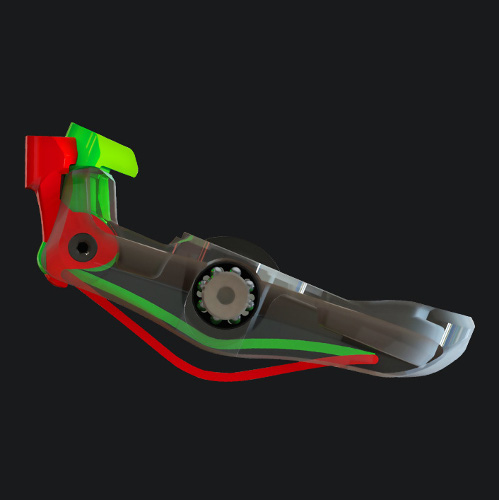 Blade Technology
Blade technology uses a blade instead of a conventional metal spring, which has many advantages for the user:
Safe cleat entry/ release: the blade flexes, providing a firm hold once clipped-in, and when clipping-out, releases the foot faster at the end of the process in a quick and secure movement.
An aerodynamic shape: thanks to the integration of the blade inside the body, pedals equipped with BLADE technology have the best aerodynamic shape ever created.
Low weight: the design of the pedal around a blade system allows a significant reduction in weight and better load distribution.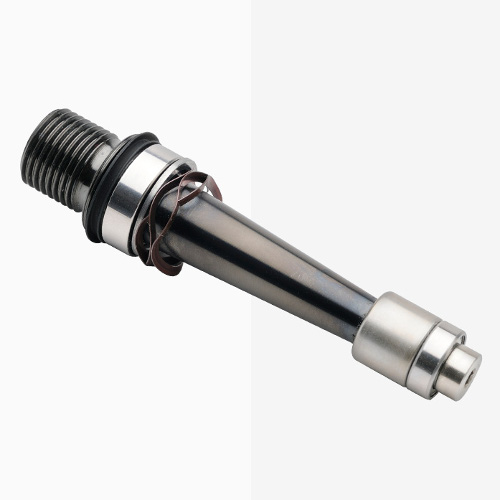 Spindle : More stability and better load distribution
The Blade Carbon pedal spindle was designed to obtain a very low stack height: only 13mm. It uses a needle bearing cartridge installed in a central position for better stress resistance while pedaling and two spaced out ball bearings which distribute the load, providing increased rigidity between the body and the length of the spindle guaranteeing excellent rotational speed.
Axle play (related to internal bearing movement and part wear) is eliminated by a wave spring that constantly applies a pre-load that does not deteriorate over time. When pushing hard on the pedals, this system can completely eliminate the annoyances caused by any play (noise and sensation of friction ).
LOOK axles are only approved after a rotational test of 2 million cycles at 100tr/min with a load of 90kg on the center of the pedal and an eccentric rotation (creating a shock on each rotation). This is equivalent to a Mark Cavendish sprint at 1700 watts with 100 revolutions/min for 333 hours! This test is far superior to the current industry standard, the EN14781.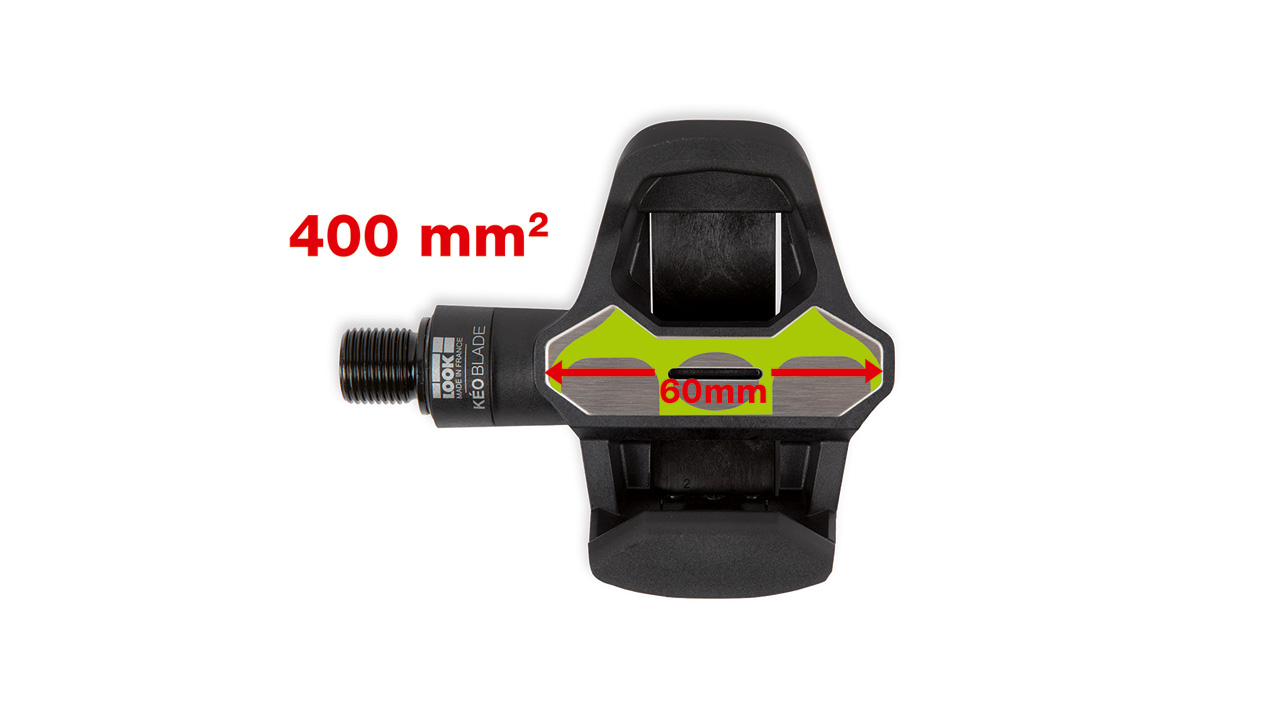 Contact surface area : Maximum power transfer
To answer the desires of some of the most demanding cyclists, notably competitors, the pedal and cleat system must allow efficient power transfer through a broad and rigid contact surface.
Because of this, the Blade Carbon platform surface is covered with a 64mm wide, stainless steel plate that has been molded into the body and optimizes, regardless of pedaling style, the over 400 mm? cleat/pedal contact area.
Manufacturer's Code: 00016120