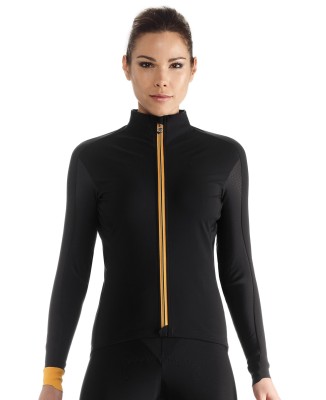 Price:
RRP: €270.00
Save: 35%
Black - XL
In Stock
2-3 Days Delivery Time
€175.50
The women's specific habujacketLaalalai is a remarkable demonstration of the technological ingenuity at ASSOS. A true winter jacket, it is incredibly light and compact which makes it supremely practical - and an undoubted pleasure to wear.
To achieve such advanced performance, it employs a selection of our smartest textiles. Front facing Stratagon Light ensures great protection from the wind and rain at a minimal weight; the specially developed thermal fabric RXQ is so low volume that the jacket as a whole can fit in a jersey pocket. However, with the habujacketLaalalai able to perform at up 15 degrees C, it's rare that you will need to take it off. With such performance and comfort, not to mention the stylish grown up aesthetic of our blackSeries colour scheme, we're sure you won't want to take it off either.
How to use it
An everyday favourite that comes into its own on rides where you encounter a particularly wide range of conditions. It should be worn with an ASSOS body insulator for optimum performance. The LS.skinFoil_earlywinter_evo7 is the natural partner, but one should consider both our Spring/Fall and Winter layers depending on the desired outfit performance.
The haBu climarange is optimised for the chill of early winter. Ensure you are prepared for deteriorating conditions by having the formidable ASSOS sturmPrinz rainShell on hand.
Tech Specs
regularFit: Less aggressive than our racingFit but more fitted than the comfortFit, our regularFit body mapping design bridges the gap between these two fits and comes in as the ultimate balance between comfort and compression.
stratagonLight: Windproof, water resistant and breathable material developed jointly with our fabric suppliers to meet our needs. Allows us to create highly effective and lightweight protective panels.
RXQ: A lighter weight RX fabric variant used in key areas requiring great breathability. Internal 3D air channels make it a perfect low volume insulator and temperature regulator.
Refined collar: Redesign which employs a double layer of fabric for ideal fit and frictionless comfort; use of RXQ and stratagonLight offers insulation and wind proofing.
ASSOS standard pockets with triple ramp concept: Thoroughly tested pocket design with a new layout that positions the pockets optimally for ease of access and ensure the contents are secure and stable. Yellow internal accents denote the garment's climaRange.
Essential arm pocket: Extra storage located on right upper arm. Useful alternative location if dexterity is compromised by winter gloves. Spacious enough for a mobile phone.
Rear stabilizer: A 2-way stretch material with minimal give in the vertical axis. The ASSOS rear stabilizer panel design allows for stable, high capacity pockets that won't sag.
Enhanced safety: Added reflective visibility features for alerting other road users to your presence, incorporated without detracting from aesthetics.
Raglan cut sleeves: Sleeves that are integrated all the way into the shirt rather than just attaching at the shoulder. Offers maximum freedom of movement and a slick, flowing fit.
Raw-cut cuffs: High end finish which eradicates the hem and employs our maximum comfort Sens Heavy Tex. Internally signals the garment's climaRange with a orange accent.
Standard pockets with integrated double security pockets and triple ramp concept: Thoroughly tested storage design with added peace of mind zipped pockets for valuables. Optimal layout that positions the pockets for ease of access and ensures the contents and secure and stable.
Zegho holder: Specifically designed loop for secure storage of your Zegho ASSOS sunglasses, located on the right arm. Compatible with a range of other models.
Reflective zips: The fasteners on the two security pockets and the full length front zip each incorporate reflective stitching for improved visibility.
Light-absorbing rear elastic hem: a wide, secure elastic hem that ensures a frictionless fit while riding; plus a reflective strip that absorbs light, resulting in added safety when faced by varying light conditions such as riding into a tunnel.
Composition
41% PA
21% PL
16% PP
14% EA
8% PU
Size Chart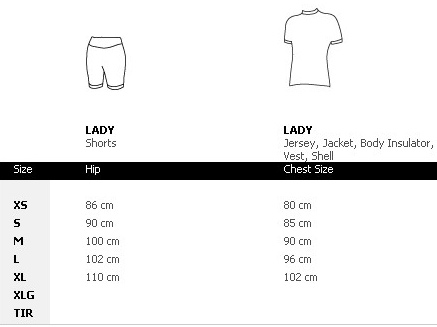 Manufacturer's Code: 12.30.336.18.XL