Black/Red/Blue - S
In Stock
2-3 Days Delivery Time
$157.90

Ideal choice for warm days where short sleeves and a standard, body-mapped fit are in order.
Team kit takes many forms, with each piece having its place in the overall apparel "system." We think of it in terms of application-based layering, versus a hierarchy, which is why the BMC Racing Team has an array of short-sleeved jerseys at their disposal. As such, this jersey is inspired by the team-issue jersey its riders wear during the warmer days of the year.
The body-mapped paneling follows our proven regularFit pattern, complemented by its light, fast-drying double yarn textile that excels in moving moisture away from the skin. From there, we borrowed a few design cues from our favorite long-distance jerseys, including an open mesh at the underarms for increased airflow, our proprietary reinforced pocket system that stabilizes the cargo load, a clean fold-over stitching at the cuffs and front hem, a slim full-length zipper, and a light silicone grip along the rear hem for a locked-in hold, regardless of upper body position.
How to use it
Tuned for summer cycling, this jersey is highly breathable and well-suited for long training sessions, cafe jaunts, and local weekend rides. Depending on the intensity, time of day, weather forecast, and altitude of your route, we recommend wearing your Skinfoil Base Layer underneath to tune your outfit. On chillier days, start the ride with Arm Warmers and a shell.
Technology
regularFit: A body mapped performance fit that is a little less aggressive than our racingFit—the best of both worlds, merging wearability and speed.
Dual Tex: A fast drying double yarn textile with great moisture management and breathability. Snag resistant with high mechanical stretch, it also has built-in UPF30 and odorControl.
Triple ramp concept pockets: Our new storage design with the pockets optimally located for ease of access; security and stability guaranteed. The pockets in this jersey are made from lightweight and super stretchy Sens Classic Tex.
Open mesh: A light, flexible material applied to the underarm panels for increased airflow.
Full-length zipper: Slim, light zip to help regulate temperature.
Size Chart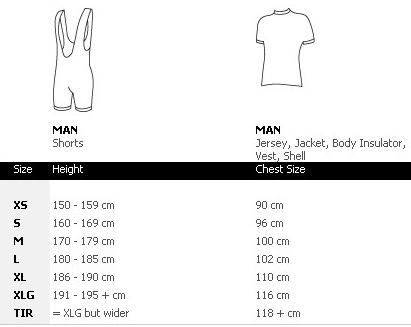 Manufacturer's Code: 13.20.280.99.S